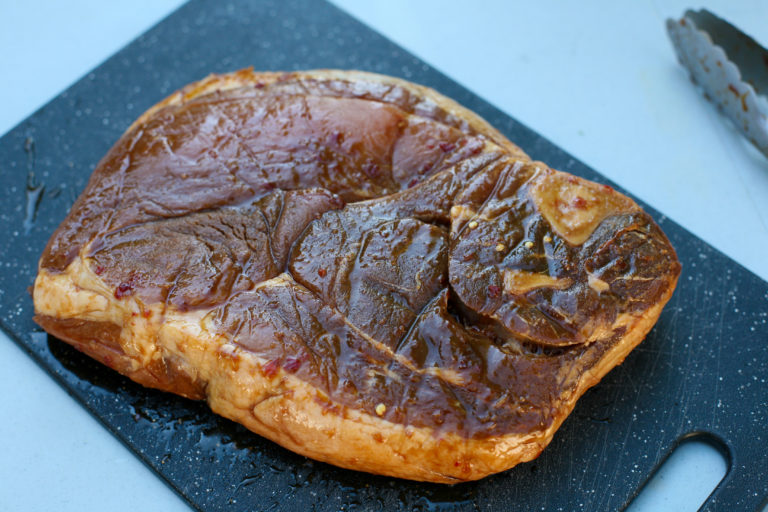 Chef's notes:
Pork responds very well to brines. Actually, it benefits greatly from them. But sometimes what pork needs is a marinade, not a brine. A marinade is similar to a brine. It injects flavor and moisture, mostly to the outside of the meat. It doesn't do as good a job at getting moisture and flavor to the middle of the meat as a brine does. But sometime that isn't necessary. It just depends on what you are gonna do with the meat.
Ingredients
4 lbs of Pork Chops or Shoulder
1/2 C Hoison Sauce
1/2 C Soy Sauce
2 T Korean Red Pepper Paste or Sambal
2 T Rice wine
2 T Rice Vinegar
2 t Sesame Oil
1 T Fish Sauce
Pork Marinade Made from Hoison Sauce, Red Pepper Paste, Soy Sauce, Sesame Oil, and Rice Vinegar
Purchase some pork steaks or chops. Pretty much any cut of pork will work for this recipe as long as it's not too big. Pork chops or steaks would probably be the best. What I use here is a fresh ham steak. I grilled it after marinating it overnight.
Select your marinade ingredients. The ingredients I selected for this marinade are things I had in my refrigerator. The hoison is sweet, the soy is salty, the vinegar is sour, the red pepper paste is hot, and the sesame oil is awesome. Sounds like a good marinade to me.
Mix the marinade together. Mix the ingredients using a wire whisk. If you want, add some ginger, garlic or green onion to this mixture. If you don't like spicy food, use less (or none) of the red pepper paste.
Put it on your pork. The easiest way to apply a marinade is to put everything in a plastic bag with a zip-locking mechanism on top. That way you get an even coating while using less marinade. Plus, it's easier to store. Leave the pork in the marinade overnight.
Tips & Tricks
Use a smaller cut of pork for best results when using a marinade.
The ingredients for this marinade can be easily found at any Asian grocery store.
A good way to cook marinated meat is on the grill. Use the marinade as a basting sauce if you want.
You can make pork sandwiches with this stuff. Hoison makes a great sandwich sauce.
The sauce also makes great kabobs.