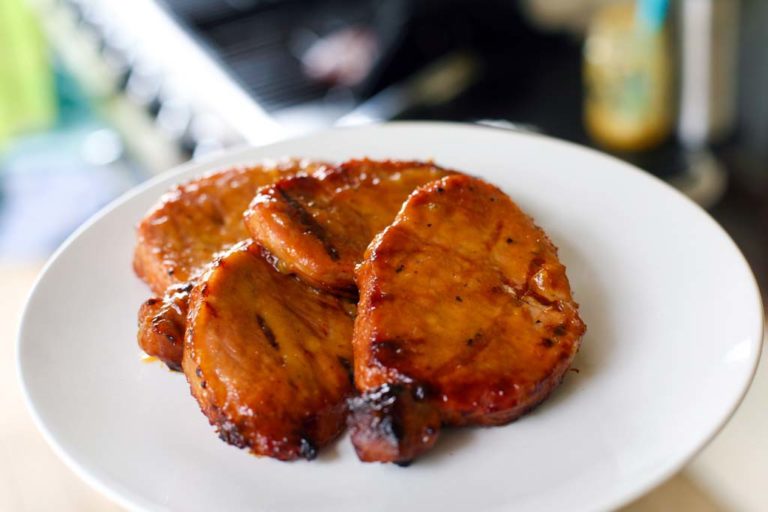 Chef's notes:
Most people think of barbecue sauce when they hear the word barbecue. But BBQ sauce is not always a part of barbecuing. Barbecuing is really just grilling with the lid closed—the sauce is up to you. When you close the lid on a grill, you create two things: smoke and moisture. These two things are very effective at cooking stuff and making it taste good. The addition of sauce to barbecuing is always an option, but it isn't always required. And as you will see in this recipe, it isn't always brownish-red either.
Don't worry. You will understand once you taste the Bourbon Peach BBQ Sauce, recipe courtesy of my sister in law Andrea.
Ingredients
4 pork loin chops
½ cup salt
½ cup sugar
1 sour apple, chopped
1 tsp paprika
½ tsp mustard
½ tsp garlic powder
½ tsp thyme
½ tsp black pepper
½ tsp cinnamon
Pork Chop Recipe: Apple and Spice Brined Pork Chops Grilled with Homemade Peach and Bourbon Barbecue Sauce
Brine the pork chops for a minimum of four hours. These pork chops will be on the grill longer than normal since we are going to be cooking them with the sauce. So we want to make sure they don't dry out. We can do that by brining them. I have included a simple recipe for pork chop brine just to the right. They will be even better if you brine them the night before.
Grill the pork chops over high heat first. Preheat the grill on high for 10 minutes. Then clean the grill grates with a wire brush. Finally, wipe the grates with a paper towel dipped in vegetable oil. This will further clean the grates and ensure that the pork chops don't stick. Grill the chops for four minutes on high then rotate them 45 degrees to make the grill marks. Repeat on the other side.
Put the pork chops on some foil off to the side. Move the chops to a piece of heavy duty foil or a pan off to the side and away from the direct heat. If possible, have heat on either side but not directly under it. Put some sauce on either side and close the lid for five minutes. Then flip them over and sauce them again.
Continue to sauce and cook the chops until tender. You may introduce smoke into the grill if you wish. This will add some even better flavors. Do this by soaking wood chips in water for a few hours beforehand. Drain them and put them in a foil pouch with a few holes on top. Place the packet over the heat and it will begin to smoke after a few minutes. Once the chops are tender, let them rest for 15 minutes before you eat them with more sauce.
Tips & Tricks
There are plenty of different brines for pork chops out there. If you want more information of brining pork, read this recipe for Pork Brine.
Trim the fat cap off of the pork chops if the butcher has left it on. It will only cause flare-ups in the grill. If you look closely at the photo in step one, you will see the fatback or lard is still on. Only a thin strip remains in step two. You could save that fat to lard a roast if you desire.
BBQ sauce is easy to make, and it isn't always dark red or brown.
I make no claim to be an expert at southern cooking. But some of my kin do come from Kentucky so I might claim to know a thing or two about Bourbon. My favorite bourbon is Blantons. It's expsensive though so I usually just get Jim Beam Black, aged 8 years, or I keep it simple and just get the Makers.bbq
Andrea's bourbon peach barbecue sauce recipe
1 quart canned peaches
1 medium onion, minced
2 jalapeños, seeded and minced
3 cloves garlic, minced
¼ cup bourbon whiskey
2 Tbsp prepared mustard
¼ cup brown sugar
⅓ cup cider vinegar
1 Tbsp honey
Crushed red pepper flakes to taste
Salt and pepper to taste
Cook until soft and thickened. Puree if necessary. Use as desired.