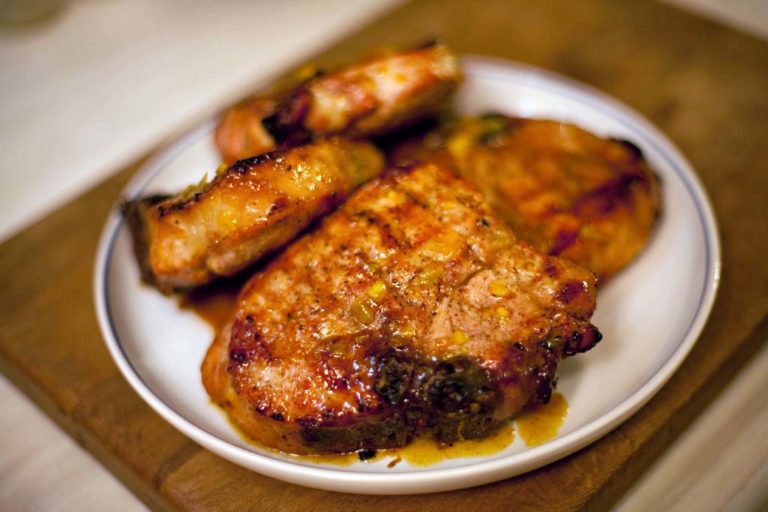 Chef's notes:
Pork chops, next to ribeye steaks, are one of my favorite things to grill. Pork fat responds so perfectly to open flame that it's many people's favorite thing in the whole world. This recipe for grilled pork chops comes with a really tasty glaze that when applied multiple times during the grilling process creates a wonderfully sweet crust to contrast the juicy meat inside. One of the keys to grilling really good pork chops is to get the pork chops with the bones still in. They are harder to overcook.
Ingredients
4 bone-in pork chops
Sea salt
Black pepper
Vegetable oil
Thick-Cut Pork Chop Recipe: Grilled with Salt and Pepper and Glazed with an Orange Marmalade Sauce
Buy thick pork chops. When it comes to pork chops, thicker is always better. Especially if you are worried about overcooking or drying them out. The thicker pork chops cook slower, which means they take longer to overcook too. That gives you more time to check the temperature and get them off the grill before it happens.
Season the pork chops. One way to add a lot of flavor to pork chops is to brine them for a few hours. For that read Brined Pork Chops. If you plan on glazing the pork chops with a sauce (like I'm doing here), just season the pork chops with salt and pepper. If you aren't glazing them, then season them with something that you like. Finish them off with a light coat of vegetable oil to keep them from sticking to the grill.
Heat up the grill. I used a gas grill for these pork chops. I prefer charcoal, but this is what was available. With gas grills, which are usually pretty underpowered, I crank the burners to high and let them preheat for five to ten minutes before putting the meat on. Then I lay the pork chops over the hottest part of the grill, close the lid, and let them cook for a couple minutes.
Finish grilling the pork chops. To get crisscross grill marks on your pork chops rotate them after about 3–4 minutes of grilling on the first side. Then after about three more minutes flip the pork chops over. You can begin applying glaze to the pork chops. After about three minutes flip the pork chop glaze side down. Apply more glaze and flip again after another minute. Repeat this process five or six times or until the pork's internal temperature reaches 150 degrees F.
Tips & Tricks
Buy pork chops that look and smell fresh.
Buy thick-cut pork chops because they don't overcook as easily.
Pork chop brine is a nice way to add flavor to your meat. It adds juices, too.
If you plan on glazing your pork chops, don't put too many spices on them beforehand. The flavors will get all mangled. Just use salt and pepper.
Heat up the grill for a few minutes before putting the pork chops on.
Putting the lid down while grilling may shorten the grilling time.
You can grill in the winter; it's kind of fun.
Save a little bit of the glaze for serving.
Orange marmalade glaze recipe
¾ cup orange marmalade
¼ cup orange juice
5 garlic cloves, minced
½ tsp ground ginger
½ tsp ground mustard
Dash of ground clove
4 Tbsp butter
Combine all ingredients except butter in sauce pan and simmer for 20 minutes. Remove from heat and let cool for 10 minutes, then mount the sauce with butter by stirring in one tablespoon at a time, slowly, so that it incorporates into the sauce. Apply it to the pork chops during grilling to glaze them.