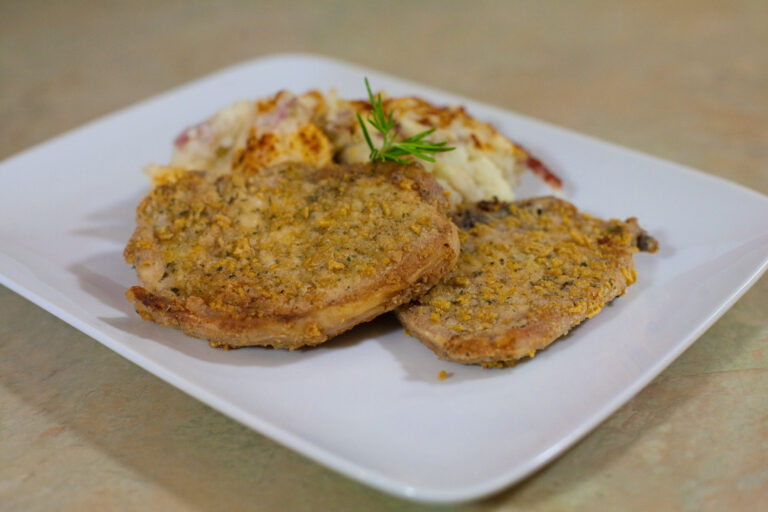 Chef's notes:
Baking a thicker pork chop can be tricky, it can sometimes lead to an overcooked chewy mess. But if you start with a thin bone-in chop it will be tender even if you overcook it. And if you bread it and get it crispy, it will be even better. This recipe makes me think of my summer in Georgia when a friend took me out to a local favorite eatery that was basically someone's house. I knew I was in for a good meal and I felt right at home.
Ingredients
6 thin bone-in pork chops
1/2 cup all purpose flour
1/2 cup crumbled corn flakes
2 tsp salt
1 tsp white pepper
1 tsp fine minced fresh thyme
1 sage leaf minced fine
1 small sprig of rosemary minced fine, no stems
2 T of good mayonnaise
Baked Thin Pork Chops with Cornflake and Fresh Herb Breading
Pick out some thin-cut pork chops to your liking. At my butcher shop, I always recommend the rib-end pork chops because they have more dark meat which is very tender and flavorful. But plenty of people prefer the loin end which is typically leaner and has a more consistent grain. Either way, you are going to want bone-in pork chops for this particular recipe. Not because you have to, but because they are so dang good.
Prep the breading and preheat the oven. Preheat the oven to 400 F, 375 F if you are using a convection oven, and make sure a rack is in the middle part of the oven, This way you have a greater chance of getting an even cook. Assemble the flour, salt, pepper and crumbled corn flakes in a bowl and mince the herbs finely, making sure not to get any woody stems in the mix. Dry herbs work too, just use about half of what is recommended for fresh.
Get the pork chops ready for the oven. Coat the pork chops with a thin layer of good mayo. For the love of god do not use miracle whip! Then dredge them in the breading mixture and push it in with your hands to make sure you get a thorough coating. If you have a sheet of parchment paper lay that on the sheet pan before you put the chops down. I've found that it works better than aluminum foil for getting things brown on the bottom. Then stick the chops in the oven and set the timer for 20 minutes.
Baking the pork chops. The pork chops will take 20-30 minutes at 375-400 degrees F depending on how thick they are and how good your oven is. If you have a really nice newer oven with a fan in it, i.e. convection. Then it will probably be pretty close to done after 20 minutes. So checking at the 15 minute mark is going to help you figure this out. If they look almost done at the 15 minute mark, brown but not quite all-brown, 5 more minutes. Not brown at all, 10 more minutes. As always the best way to tell if something is safe to eat is to use a thermometer. The minimum safe to eat temp for pork per the USDA is 145 F. After they come out of the oven let them rest for 3 minutes before enjoying with a good side of mashed potatoes or whatever you like.
Tips & Tricks
The best pork chops come from the rib-end, the one closer to the shoulder with the darker meat.
Feel free to jazz up the breading however you like, garlic or onion powder, a dash of cayenne pepper, cornmeal, cracker crumbs, and Doritos are all great ideas.
You can absolutely use boneless chops for this recipe. I just prefer the bone-in because I like to chew on it.
Another variation to this recipe would be to use a meat hammer and pound out the pork chops a little to get them really tender.
You can also use dried herbs instead of fresh herbs just reduce the amount by about half.