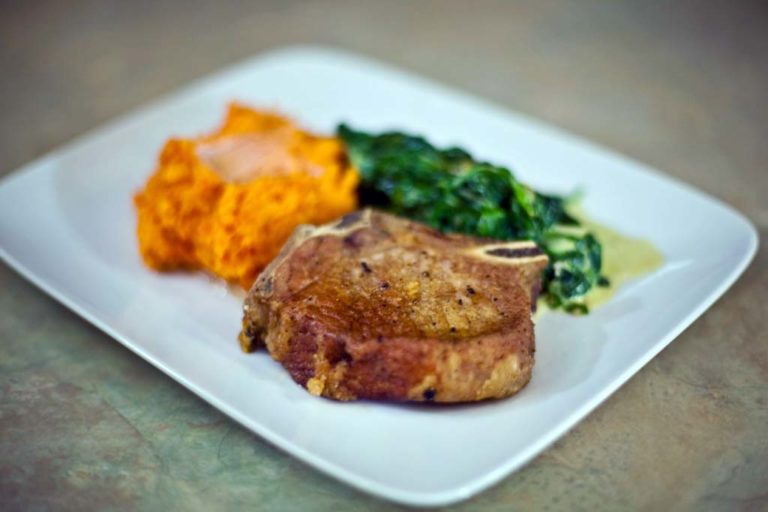 Chef's notes:
Pork chops can be cooked any number of ways, but there is something about frying them that just seems right. Maybe it brings me back to all those years I spent making Wienerschnitzel at summer camp. It was supposed to be made with veal, but we were on a budget so we used pork chops. So technically we were making Schweineschnitzel. But man was it good. Regardless, the pork chops that I am frying here are the American soul/comfort food version, with creamed spinach and mashed sweet potatoes on the side.
Ingredients
2 pork chops
1½ cups all-purpose flour
½ Tbsp black pepper
1 Tbsp seasoning salt
1 liter peanut oil to fry in
Pork Chops Dredged in Flour mixed with Seasoning Salt and Fried in Oil
Pork Chops Dredged in Flour mixed with Seasoning Salt and Fried in Oil I recommend getting pork chops that are at least an inch thick. This will give the breading time to brown before the inside gets overcooked. But I also wouldn't get the really thick pork chops. With them you would have the opposite problem. Trim some of the thicker fat off the sides if you want.
Bread the pork chops to be fried. The quickest way to bread pork chops for frying is to dredge them in flour mixed with spices, which is what I have done here. If you like a thicker breading, dredge them in egg mixed with milk and then coat them in bread crumbs. My spice mixture is listed to the right. Bread the pork chops just before you want to fry them.
Fry the pork chops. Heat up the frying oil to 375 degrees F. I use peanut oil because it's the best thing to fry in . . . as long as you're not allergic. Use a thermometer to keep track of the oil temperature. Put the pork chops in and try to keep the temperature of the oil just above 350. After a couple minutes, flip the pork chops over.
Check the internal temperature of the fried pork chops. After 3‒4 minutes, remove a pork chop and check its internal temperature. Once they reach 150‒155, they are done and can be safely eaten. If your pork chop has a bone, take the temperature reading near it. Drain the pork chops on a paper towel for a couple minutes before serving. Enjoy!
Tips & Tricks
Buy pork chops that are around 1‒1½ inches thick. Thinner ones are good too it just depends on what you like. The thinner ones however will cook quicker so you may want to cook them at a slightly higher temp so the outside gets brown before the inside gets overcooked.
Pork can be a little tacky or sticky sometimes and that's okay. And sometimes there may be a slight odor when you first open the package but it should dissipate in a few seconds.
Trim a little of the thicker fat off. But don't get too carried away. Fat is flavor and when it's fried it is delicious.
If the flour mixture isn't sticking to the pork chops, wet them with a little lemon juice before you dredge them in the flour.
Be careful when frying on the stove; the oil is hot and flammable. Keep track of the oil temperature with a candy thermometer.
Let the pork chops rest for a couple minutes on paper towels or newspapers before you eat them.
seasoning salt recipe mix
½ tsp paprika
¼ tsp garlic powder
¼ tsp onion powder
¼ tsp celery salt
¼ tsp turmeric
¼ tsp cumin
¼ tsp marjoram
2 tsp salt