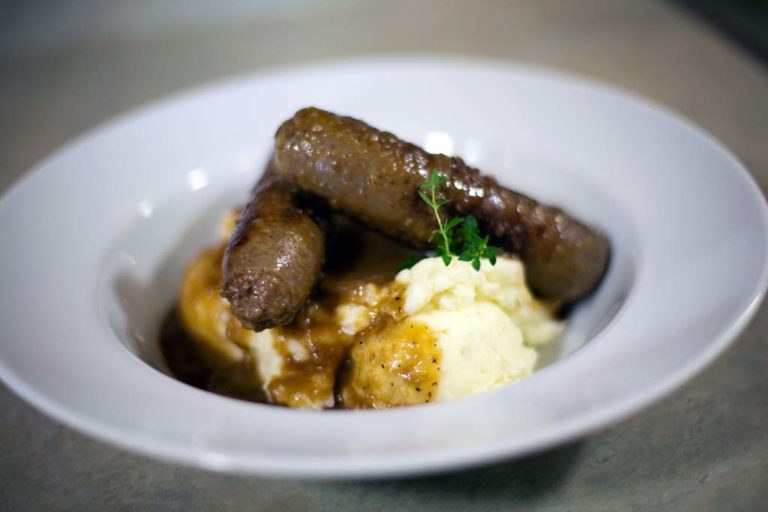 Chef's notes:
The bangers in "bangers and mash" are traditionally sausage made with either pork or beef or even a combination of the two, but when you get right down to it, any sausage will do (so long as it goes well with mashed potatoes, and dare I ask: what does not?).
The bangers and the mash aside, there is one component of this classic pub grub that I haven't yet mentioned. The onion-spiked gravy that ties the whole thing together. I've included a good recipe for that too at the bottom of this article.
Ingredients
6 banger sausages
4 Tbsp butter
2 med white onions, sliced thinly
4 Tbsp all-purpose flour
2 cups beef stock
½ cup heavy cream
Sea salt to taste
Black pepper to taste
Banger Sausages, Creamy Mashed Potatoes, and Beef Onion Gravy
Pick out some banger sausages. You may have some difficulty, unless you're in the U.K., in finding bangers. However, any sausage that you think will go well with potatoes and gravy will work, and let's face it, this is almost every kind of sausage that exists. Be creative and have some fun; there's no wrong answer here.
Make the mashed potatoes first. I prefer russets for my mashed potatoes most of the time. For this recipe at least, I think the gravy sticks to them better. Chop the peeled potatoes into eighths and rinse them, then put them into a pot and cover to an inch above the spuds with cool water and a tablespoon of sea salt. Bring to a simmer until the potatoes are cooked enough to give way to a fork. Mash, season, and set aside.
Fry the banger sausages in the butter. Heat up three tablespoon of butter in a nonstick skillet and add the bangers once the butter begins to brown. Fry over medium heat until the bangers are brown on all sides, or at least mostly brown. Then add one more tablespoon of butter and the thinly sliced onions. Cook the onions with the bangers until the onions begin to breakdown and are nicely browned.
Remove the bangers to a plate and make gravy. Stir the flour in with the onions and cook over medium heat for another minute. Then add the beef stock (or other stock if you haven't any beef stock available) to the pan. Use a wire whisk to stir the mixture for a minute or two until it is hot and thickened from the floured onions. Stir in the heavy cream and adjust the seasoning.
Add the bangers back to the pan. After a minute the bangers should be back up to heat. Check the internal temperature and make sure they reach 160 degrees Fahrenheit. Once there, serve the bangers over the mashed potatoes with a good deal of gravy. A nice toasted (or at least crusty) bread should go well with this dish. Also, roasted or grilled tomatoes are a nice accompaniment.
Tips & Tricks
Any sausage pork, beef, or even venison will go well with this recipe. If you find real bangers somewhere, give them a whirl; they are quite good—and much different from bratwurst.
Mashed potatoes come in all flavors these days. For some reason I like plain old mash, maybe some sour cream or creme fraiche—if you want to get fancy.
A nice, fatty sausage is more resilient to longer cooking times. This is why pork is the most popular sausage ever. Check those beef sausages; there may be pork in there.
This recipe is quick and easy, and it makes great leftovers. I ate it for three days in a row.
Mashed Potatoes Recipe
7 russet potatoes, peeled and cut into chunks
Salted cool water to cover
4 Tbsp butter
½ cup cream
Sea salt to taste
White pepper to taste
Sour cream (optional)