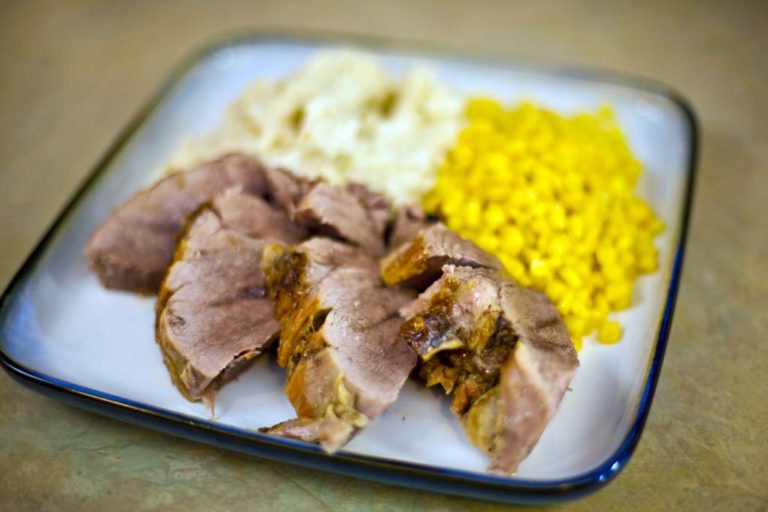 Chef's notes:
There are two kinds of pork shoulder roasts: the shoulder arm and the shoulder blade. This recipe is for a shoulder blade roast that weighs about ten pounds, which is a fairly typical size. When butchers cut these roasts into smaller portions, they label them arm or blade steaks. Some butchers will sell the shoulder roasts boneless, which shortens the cooking time, but those roasts will also be less flavorful. Don't worry about trimming any fat away; much of the fat will cook out of the meat in a process known as rendering.
Ingredients
10 lb. brined pork shoulder
Black pepper
Whole Bone-in Pork Shoulder Roast Brined Overnight then Roasted with Black Pepper
Pick up a pork shoulder to roast. I brined this ten-pound pork shoulder roast for two days before I roasted it. Brine is a useful way of introducing more liquid and flavor to the meat and helps it stay juicy and tender. If you are interested in brining a pork shoulder read this article: Brined Pork Shoulder.
Prep the pork shoulder to roast. If you decide to brine your roast, you won't have to do much to it before you roast it—maybe rub a little black pepper on it. For unbrined roasts, rub them with sea salt, pepper, garlic and Herbes de Provence. Preheat the oven to 500 degrees Fahrenheit, and wait patiently because it will take several minutes to get that hot.
Roast the pork shoulder at a high temp first. Once the oven is up to temperature, put the roast in the middle of the oven. For this ten-pound roast, I let it roast at 500 degrees for 40 minutes. For smaller roasts, 20 to 30 minutes should be long enough. This first stage helps to form the tasty crust on the outside of the roast.
Finish the pork shoulder roast at 350 degrees. After the 20 to 40 minutes have passed, take the pork shoulder roast out of the oven, and turn the heat down to 350 degrees. Roast the pork shoulder until a thermometer inserted into the deepest part of the roast reads 150 to 155 degrees Fahrenheit. This ten-pound roast took three more hours before it was done, but you should check the temperature every hour just to make sure. When it is done, let it rest, loosely covered with foil, for 30 minutes before you cut it up.
Tips & Tricks
Use meat from your butcher that looks and smells fresh
For an extra juicy pork roast, brine the meat for two days before you roast it. Check step one for help with that.
Don't worry about trimming the fat away, much of it will cook off.
Season the meat very simply if you brined it. Even if you can't really see it, the brine has already flavored the meat. If you didn't brine the meat just use two or three good flavors along with salt and pepper.
Roasting pork this way will create some smoke; this is okay. Just turn on the vent or open a window. Whatever you do, do not put water in the bottom of that pan. It will ruin the whole thing because you would be steaming the roast instead of roasting it.
Let the meat rest, loosely covered with foil, for 30 minutes before cutting it up.