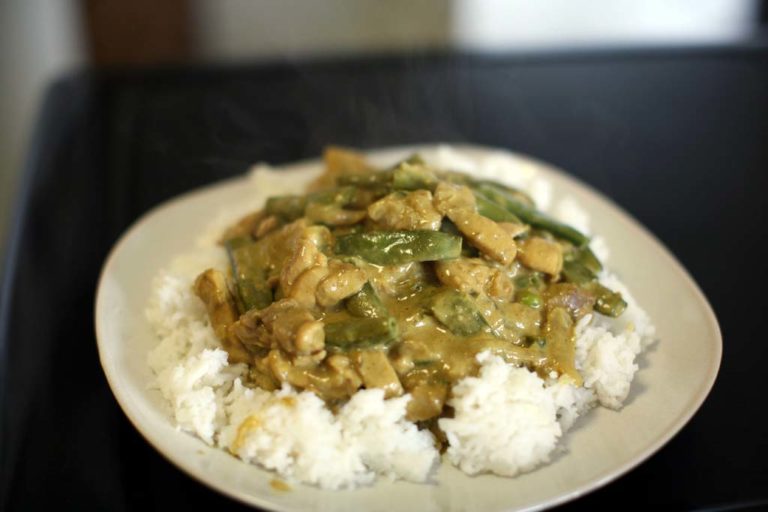 Chef's notes:
At one time curry was a mystery to the world. These days it is not uncommon to eat curry in even the smallest, most remote towns across America. I started eating curry while I was in college, but I never really started cooking with it until recently. To me curry is so amazing because usually a dish with lots of different spices in it is overwhelming. All the conflicting flavors confuse, confound, and dismay the people eating it. But curry is one exception to the rule. It is an example of what can be done when lots of flavors are perfectly balanced and contrasted with each other. The flavors complement each other almost defensively, as if to say, "It's cool; he's with me."
It is possible and most certainly encouraged to get all your own herbs and spices to make your own curry from absolute scratch. But in most cases a pre-made blend will be just fine. For this recipe I used a dry mix, which I hydrated in water to make a paste.
Ingredients
1½ pounds boneless, skinless chicken thighs
2 cups snow peas
1 package shiitake mushrooms
1 yellow onion
10 oz can coconut cream
2–3 Tbsp dry curry or curry paste
1 tsp fresh ginger
1 Tbsp brown sugar (optional)
1 Tbsp soy sauce (optional)
4 Thai chilies (or to taste)
Coconut oil for frying
Chicken Curry Recipe Made with Masala Spices, Onions, Mushroom, Snow Peas, Chilies, and Coconut Cream
The ingredients for this curry are very easy to find at almost any grocery store. You will need boneless skinless chicken thighs for this recipe. You may use breasts if you prefer. Cut the meat up into bite-size pieces and set aside. Chop up the onion into half-julienne and set aside. Mince the chili peppers, and make sure not to touch your face with your fingers. Remove the stems from the shiitake mushrooms, and cut the caps into strips. Snip of the ends of the snap peas.
Mix 2–3 tablespoons of the curry powder with water until it forms a paste. The curry powder I used is a MDH meat masala, which is a pretty common curry. Open the can of coconut cream after shaking it vigorously. Coconut milk will work if that is all you are able to find, but the coconut cream is much more flavorful.
Heat up a fry pan on medium with 2 tablespoons of coconut oil in it. Once the pan is nice and hot, add the chicken pieces in one layer across the whole bottom, and try not to double stack the pieces. Let them sit for 2 minutes before attempting to flip them. If they stick, just leave them. Once they are seared, they will be easier to remove. Don't stir them too much.
Once the chicken is mostly cooked, add the onion and ginger, and stir. I had to switch to a larger frying pan at this point as I realized I had underestimated the quantity of food. It may seem like quite a bit of onion, but it will cook down a lot so keep that in mind. In the next step you will see that I switched to a wok.
After mixing in the onions, add half of your curry paste, and mix it in. It is roughly 1½ tablespoons of curry paste, if you are keeping track. One thing that I forgot to tell you is that old curry is not as potent as newer stuff. The package we used for this meal had been opened a few months ago. Curry, like all spices, loses some of its flavor as it ages, so you may want to get some fresh stuff.
Next, add the Thai chili peppers, if you want. If you don't have Thai chilies, any spicy chili will work as long as it has a little heat. Coconut curry, as Jonathan told me today, is no good if isn't spicy, which is why we are adding so much in the picture.
After adding the chili peppers, you will be adding the coconut cream. If you are using coconut milk, it will just be a little bit waterier, which can be solved by simmering it a little longer.
Add the remaining vegetables and stir them in carefully. These ingredients are added last because they are delicate and will overcook and turn to mush if added too early.
Lastly, add the remaining curry paste. Mix it in and taste the sauce. If it needs more curry, add only half as much as you think it needs. If it needs salt, add it. I added 1 tablespoon of soy sauce at this stage, to give it a little salt.
Put the lid on and set the heat to simmer. Let it simmer for 20 minutes. If, after 20 minutes, it is still watery, you can simmer it with the lid off for a few more minutes. This will help to thicken it. It will also get thicker after you remove it from the heat. Taste it and adjust your seasonings if you need to. Enjoy.
Tips & Tricks
Curry mixes lose their potency over time. Replace often.
Don't stir it too much or stuff will start to fall apart.
Don't add to much coconut cream, as a lot of water will come out of the vegetables.
Simmering with the lid on will help to keep moisture in the pan.
Don't add too much curry before you simmer. The flavors will be stronger after simmering.
You can put the curry into a casserole and finish cooking in the oven.
If the curry is too hot, add sugar
There are many different curry blends available in a variety of colors and flavors. And each blend can be combined with a number of different vegetables and meats to give you an infinite number of possible combinations.
You can also purchase curry in paste form, and store it in your refrigerator.