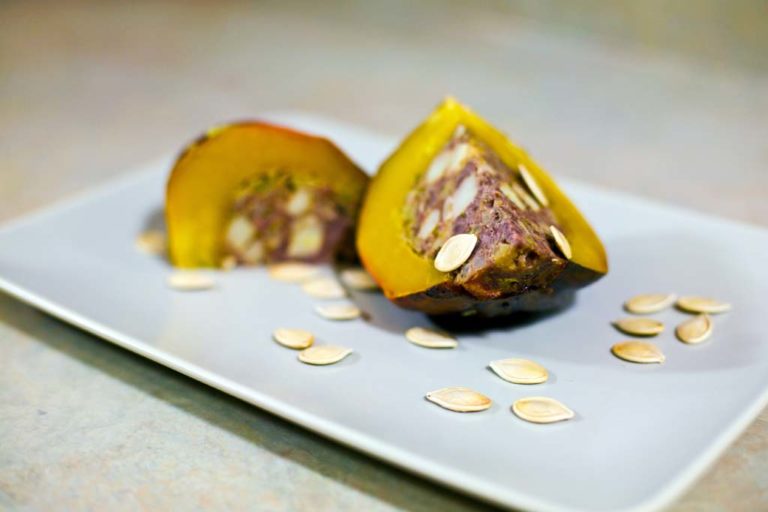 Chef's notes:
I grew up eating a version of this recipe. Only, my Mom used overgrown zucchini instead of winter squash. Which was of little consequence to me, since I only ate the meat anyway. It was also no doubt drowned in as much ketchup as I could get my hands on. The use of winter squash was a definite improvement on my part, I must say. Although I doubt I would have thought so as a child. To make your slices of stuffed squash look as good as this one, let the squash cool for 15 minutes and use a sharp serrated knife to slice it.
Ingredients
1 medium-sized squash
½ cup minced onion
1 medium stalk celery, minced
1 parsnip, medium dice and par-cooked (simmer in salt-water for 10 minutes before adding to stuffing)
1 Tbsp fresh rosemary, minced
1 egg
2 Tbsp bread crumbs
1 Tbsp finely chopped almond, or blanched pistachios for color
½ lb ground meat, bacon and venison in this case
½ tsp sea salt
black pepper to taste
Venison Recipe: Winter Squash Stuffed with Ground Venison and Bacon, Parsnip, Onion and Rosemary
Get your stuffing ingredients together. For this recipe I am using a combination of bacon and venison. If you don't have any venison, use some combination of beef, lamb, or pork sausage. I use some egg and breadcrumb to bind the mixture together and keep the meat from falling apart when cooked.
Mix your stuffing and get the squash ready. Mix the stuffing ingredients together well, using your hands and a bowl. Cut a round opening in the top or bottom of your winter squash, depending on which end is thinner. Use a round object, like a measuring cup, as a guide.
Stuff the squash and preheat the oven. Salt and pepper the inside of the squash first. Then stuff the meat mixture into the squash. Preheat the oven to 350 degrees F and put the squash in a casserole dish of similar size to the squash. Add to the bottom of the casserole dish about 3 inches of water.
Bake the stuffed squash. Once the oven's up to heat, place the squash and casserole dish into the oven and set the timer for 1 hour. Remove the casserole and check to see if the meat is cooked, using a digital thermometer. The inside should be 150 degrees F. Let it rest for 15 minutes before you serve it. Slice the squash using a serrated knife to keep it from falling apart.
Tips & Tricks
The top of the squash will most likely be thicker than the bottom, so make your hole in the bottom. If you're not sure which end is thinner, you can check by tapping and/or lightly pushing on the flesh. One end will sound more hollow and/or give way more than the other.
If you're not sure about the flavor of the stuffing, fry a little hunk of it in a frying pan and give it a taste.
Don't add water to the casserole dish once it goes dry. It's as hot as the oven and will shatter immediately.