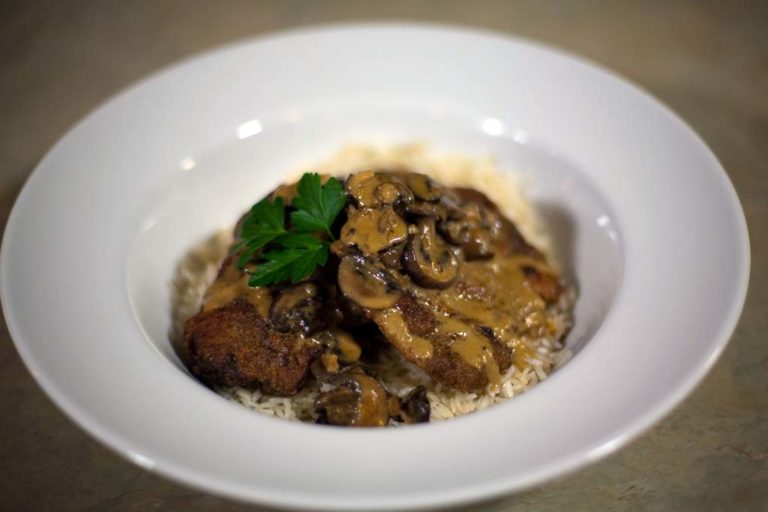 Chef's notes:
Traditionally jaeger, or hunter's, schnitzel is made using pork. Why, exactly, I'm not sure, unless the thing they are hunting is a wild boar, which is entirely possible. It makes more sense to me that a hunter would make this dish using venison. But I have also read that the "hunter" component of this recipe is the sauce of mushrooms and not the meat at all. This also makes sense because mushrooms grow wild, and hunters would likely find many of them while they hunted in the woods. In any case, I decided to avoid stepping on any German toes by naming this dish hunter's schnitzel instead of jaeger schnitzel. Someday, I will want to cook that too!
Ingredients
1½ pounds venison roast
½ cup all-purpose flour
½ tsp nutmeg
2 tsp salt
1 tsp black pepper
2 eggs, beaten
1½ cups bread crumbs
Vegetable oil, for frying in
Venison Cutlet: Pounded, Breaded, Fried, and Served with Mushroom Sauce
Get the ingredients for venison schnitzel together. The venison that I am using is a rump roast from a deer that I shot last season. My friend Eric and I processed the deer ourselves. The way I was taught to cut up a deer is to cut the meat into muscle groups so as to avoid silverskin and fat. The two pictured are rump muscles. If you can't find venison, substitute pork or beef.
Slice and pound the meat thinly. I sliced these pieces of venison across the grain into 1‒1½-inch thick pieces. Then I laid them out onto a cutting board and pounded them with a meat hammer until they were just under a half-inch thick. If you are concerned about meat juices and chunks flying around, cover them with four or five sheets of plastic wrap while you pound them.
Bread the cutlets with flour, egg, and bread crumbs. Mix up the three different bowls of stuff needed for breading. Combine the flour, salt, pepper, and nutmeg. Beat the eggs in one bowl and put the bread crumbs in another. Start with the flour and tap off any excess. Then dip the cutlets in the egg, and finish with the breadcrumbs. Push the breadcrumbs into the cutlets with the palm of your hand. This will help them stay.
Fry the cutlets in oil or butter. Heat up several tablespoons of vegetable oil or clarified butter over medium-high heat. Fry the cutlets on each side until golden brown. As you fry the cutlets, move them to a paper towel to remove excess oil. Add oil as needed during the frying process. Also, make sure you give the oil a little time to rebound between batches. Keep the cutlets warm at 150 degrees F while you finish the recipe.
Make the mushroom sauce. Make the mushroom sauce by frying the onions, garlic, thyme, and sliced mushrooms in the butter until browned and reduced as in the photo. Then add the white wine and cook it off completely. Then add one cup of chicken stock and reduce by about half. Adjust the salt and pepper levels, and add mustard, tomato paste, or creme fraiche, if you want. Serve over the venison schnitzel like in the photo up top.
Tips & Tricks
If you are having a hard time finding venison for this recipe, use some pork or beef, or even wild boar.
Be careful pounding the meat. It's easy to get carried away and smash the meat to little bits.
When breading, it is best to have one "dry" hand and one "wet" hand. This will help you to avoid the mutant fingertips known to develop.
You don't really have to worry about checking the internal temperature of these schnitzel. They should be thin enough that undercooking will be quite difficult.
Mushroom Sauce Recipe
½ onion, minced
2 cloves garlic, minced
2 Tbsp butter
Salt
Pepper
10 oz mushrooms, sliced
Pinch of thyme
1 cup Riesling
1 cup chicken stock
1 tsp mustard (optional)
1 tsp tomato paste (optional)
2 Tbsp creme fraiche (optional)