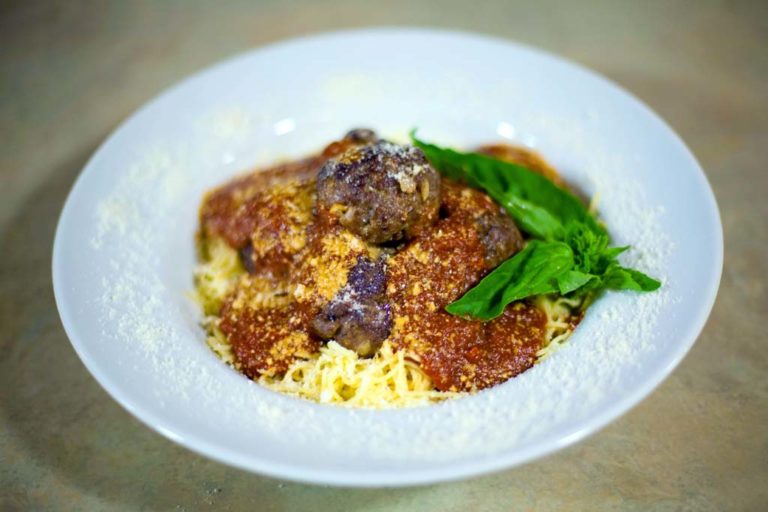 Chef's notes:
Ground venison makes good meatballs, especially when you add a little bit of ground bacon. If you don't want to add bacon, you may substitute ground pork—just as long as you add something fatty. Ground venison is much too lean to cook on its own, so you need to add a fat of some sort, and bacon is well-suited for the job. The other components of the recipe are similar to most meatball recipes. The main difference is the spices that were used; you will see that venison needs to be spiced a little differently than other meats. The spices I have chosen for this recipe—listed to the right—go well with venison.
Ingredients
1 pound ground venison
¼ pound ground or minced bacon
½ white onion, minced
2 cloves garlic, minced
1 Tbsp butter
3 Tbsp breadcrumbs
1 egg
1 tsp sea salt
½ tsp paprika
½ tsp black pepper
½ tsp sage, ground or rubbed
¼ tsp juniper berries, ground (optional)
Oil for frying
Venison Meatball Recipe: Deer Burger Mixed with Bacon, Onion, Garlic, Bread Crumbs, Spices, served with Marinara
Assemble the ingredients for the meatball recipe. The ground venison that I am using is from a local processor I know. We dropped off forty pounds of venison, and we got back around sixty pounds of sausage, bratwurst, and this stuff here (bacon-burger). If you don't have venison, you may be able to find it in the freezer section at a co-op or specialty meat shop.
Mix the ingredients together in a mixing bowl. Mince the onion and garlic, then fry them in the butter until soft. Next, turn off the heat and add the bread crumbs, salt, pepper, and spices. Let this mixture cool several minutes before adding it to the bowl of meat and eggs. Mix everything together. Add more breadcrumbs or egg if needed.
Portion the venison mixture and shape the meatballs. Use some sort of portioning tool like an ice cream scooper, spoon, or scale (or you can just eyeball it). Portion the meatballs and set them on foil or plastic wrap, so you can steal a little from each, if needed, to make the last ball. Then roll the meat mixture between your palms to form a nice, round ball.
Fry the venison meatballs in a little oil. Heat up a frying pan over medium-high heat and add a little oil. Fry the meatballs gently, rolling them over to fresh sides as they brown. It will be difficult to keep the meatballs perfectly round, so don't bother with it too much; just get as many sides browned as possible. In the end, they may look much more like cubes then balls.
If needed, finish cooking the meatballs in an oven. Depending on the size of your meatballs, it may be necessary for you to finish them in the oven. This prevents them from getting too browned, as the oven cooks them more evenly and quickly than the frying pan. Either way, you will want to cook them until a digital thermometer stuck in the middle reads 155 degrees Fahrenheit.
Tips & Tricks
If you are having trouble finding ground venison, search the Internet for food co-ops. They may be able to find some for you. Much of the commercially available venison is from red deer, which is quite tasty and a bit milder than wild venison.
Ground elk, which is a type of venison, will also work for this recipe. If using elk, I would add less sage and juniper berry. Elk is good without much seasoning.
Make sure the fried onions are cool to the touch before you add them to the meat. You don't want to prematurely cook it.
The juniper berries are optional in this recipe as not everyone likes the way they taste. Instead of juniper berries, you could add a little thyme or even a little bit of finely chopped rosemary. Be careful with rosemary though, its potent stuff.
I served my venison meatballs over noodles and under a nice marinara with shredded Parmigiano-Reggiano. It was very good. The marinara sauce recipe is also just to the right.
Marinara sauce recipe
1 large can whole, peeled tomatoes
1 cup water
¼ onion, minced
1 clove garlic, minced
1 Tbsp olive oil
1 Tbsp tomato paste
Pinch of each parsley, thyme, basil, salt, black pepper
Fry onion and garlic in olive oil until soft. Add the remaining ingredients and simmer for two to three hours. Puree or process the ingredients with a blender or food mill. Cook over low heat until sauce is dark red, which should take about another hour. Adjust the seasonings and enjoy.