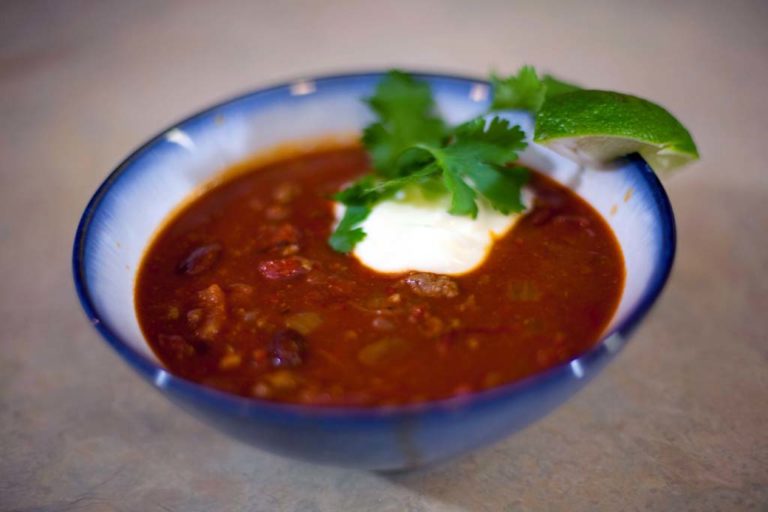 Chef's notes:
Venison lends itself well to chili. For those of you who are not huge fans of venison's flavor, this is a good way to mask it. Not that I believe in hiding flavor, but chili isn't about the meat; it's more about the chili powder. Thus, I've included a recipe for homemade chili powder. It's actually much easier than it sounds. If you don't want to make it, you can use the store-bought stuff. If you don't want to use venison for this recipe, you can use elk, bison, or even beef.
Ingredients
1½‒2 pounds ground venison
2 Tbsp butter
Salt
Black pepper
1 cup onion, diced
3 cloves garlic, minced
2‒3 Tbsp chili powder (recipe below)
2‒3 cups beef stock
2‒3 cups water
1½ cups crushed tomatoes
3 ounces tomato paste
1 cup (wet) kidney beans
Venison Chili con Carne Recipe: Ground Venison Stewed with Onions, Stock, Tomatoes, and Homemade Chili Powder
Assemble your chili ingredients. The venison that I used was a mixture of 75 percent venison and 25 percent bacon. Other ground meats will work, such as ground elk, bison, or beef; whatever you can get your hands on. You can also use meat chunks or cubes. The rest of the recipe is in the upper right corner of the screen.
Brown the venison meat in a high-sided pot. Melt two tablespoons of butter over medium-high heat in a large pot. Once the butter foam has subsided, add the ground venison. Fry the meat, breaking large chunks into smaller ones. Season the meat with salt and pepper as it cooks. Use a flat tipped spoon to get the pieces at the bottom of the pan.
Add the onion and garlic to the venison meat. Once the venison meat is browned, add the diced onion and minced garlic. Fry until the onions begin to get translucent. Now add about half of the chili powder; the rest you will add at the very end, so you can adjust the flavor.
Add the rest of the chili ingredients to the pot. Make sure to rinse the canned kidney beans well before adding them to chili; they can have a nasty flavor otherwise. Stir in the other ingredients, plus enough liquid so it will be the proper consistency after cooking for an hour. Right now you want your chili to be soupy; in an hour it will be much thicker.
Simmer the venison chili covered for 45 minutes to an hour. It will take a minimum of 45 minutes for the chili to cook. You can potentially cook the chili even longer, easily up to two hours. You may have to add some water. When it gets to the proper consistency, adjust the spices and salt levels. You can also leave that to your guests at the dinner table.
Tips & Tricks
Ground venison may be tricky to track down. Try looking in the freezer section of a local co-op, or on the Internet. In Minnesota, we just ask our neighbors if they have any. They usually do, and they often don't mind parting with it.
Brown the ground venison in bacon fat for extra flavor.
Make sure you cook the onions until they start to get clear and soft.
Rinsing the kidney beans helps keep your chili from tasting too beany. Besides, the canned bean goo is gross.
If you want your chili to have more tomato flavor, add more tomato paste.
Cook your chili uncovered if you want it to reduce more quickly.
Adding a little sour cream or cheese to a bowl of chili will reduce the heat. A bit of sugar also works.
Garnishments
sour cream
lime wedges
cilantro
shredded cheese
minced onion
jalapeno slices
more chili powder
Homemade chili powder recipe
1 ounce dried New Mexico chiles
1 tsp cumin seed
1 tsp paprika
½ tsp dried oregano
½ tsp garlic powder
Cayenne pepper to taste
Toast the chiles and the cumin seed in a pan—don't burn them! Cool briefly, then grind them into a powder, using a spice grinder. Do not breathe this powder in; it will burn. Combine with other ingredients and use as you would store-bought stuff. Except, of course, this is way better.