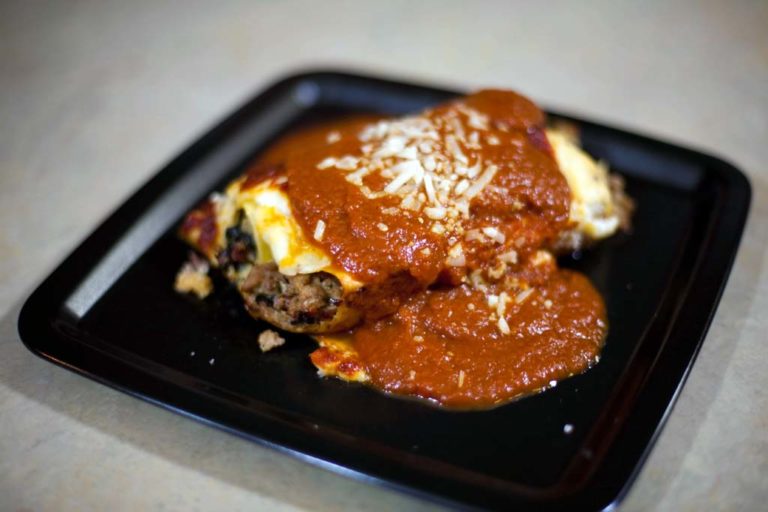 Chef's notes:
Years ago, when I was in Argentina, I had many lovely and memorable dinners. The bulk of them were from the two days I spent with the Castillo family in Quilmes. We cooked food almost non-stop. We made milanese, empanadas, crespelle (filled with dulce de leche), and cannelloni. I wrote down all of these recipes at the time and unfortunately I've lost them. I can remember a lot of it, but I think I may have to go back for a refresher course. Cannelloni are quite tasty, and I especially like using both white and red sauces. It's a nice contrast.
Ingredients
2 Tbsp olive oil
½ onion, minced
1 celery stalk, minced
3 cloves garlic, minced
5–8 ounces fresh spinach
2 Tbsp butter
1 pound ground veal
Sea salt
Black pepper
1 Tbsp fresh thyme, chopped fine
3 ounces prosciutto, minced
¾ cup parmigiano-reggiano, shredded
2 eggs
2 Tbsp bread crumbs (if needed)
6 pasta sheets
Fresh Cannelloni Pasta Stuffed with Veal, Spinach, Cheese, then Topped with Marinara and Béchamel
Fry the onions, celery, and garlic, and wilt the spinach. Heat up the olive oil in a frying pan and brown the onions, celery, and garlic until soft and lightly brown. Then add the spinach, reduce the heat, and put on the lid. Flip the spinach a bit after a couple of minutes. Cook until soft.
Brown the veal with the herbs. Put the wilted spinach in the mixing bowl and return the frying pan to medium-high heat. Melt a tablespoon of butter in the pan. Fry the ground veal in the butter and break it into smaller pieces as it cooks. Add the herbs, salt, and pepper.
Once cooled, mix everything together. Put everything into a large mixing bowl and mix until thoroughly combined. If the mixture has excessive moisture, mix in two tablespoons of bread crumbs to soak it up. If you prefer a more even consistency, put the filling in a food processor to chop it finely.
Parboil the pasta sheets. Whether you use pasta tubes or pasta sheets, you will need to partially cook them before you fill and bake them. I personally prefer the fresh pasta sheets for cannelloni. They are usually labeled as lasagna sheets. They only take a couple minutes of boiling to be considered parboiled.
Fill the pasta sheets. Lay the parboiled pasta sheet on a flat surface and spoon a couple scoops of filling into the middle. Now pick up one side of the sheet and pull it across the filling to make a tube. It will take practice. You may also need to add some filling after you've made the tube.
Top the cannelloni with béchamel sauce. Lay the filled cannelloni in a sprayed/buttered baking dish. Use the recipe and directions to make the béchamel sauce and then put it on top of the cannelloni once you have a full dish. I am using about two cups of béchamel for a 9″ x 13″ baking dish.
Top the cannelloni with marinara sauce. Use my recipe for marinara sauce just to the right or whatever tomato sauce you prefer. My recipe takes some planning ahead to make, but it's a good recipe. Top the cannelloni with two cups of sauce and then save some for serving.
Bake the cannelloni. Put the cannelloni (uncovered) into a preheated oven at 375 degrees F for 20–30 minutes. The sauce on top will dry out and set up, and it may even get a little browned. Remove the cannelloni from the oven and let it rest loosely covered for 20 minutes before eating. Serve with more marinara and some shredded parmigiano-reggiano.
Tips & Tricks
We wilt the spinach because it has a lot of water in it. If we put it in raw, the cannelloni would be soupy.
You may substitute or add anything you want. Perhaps add some ricotta or mascarpone.
You can also use Grana Padano instead of Parmigiano Reggiano.
Some people may prefer a more even texture for their cannelloni filling. This can be achieved by putting the filling into a food processor or chopping it finely.
You can freeze the cannelloni after step eight and bake it another time. It makes a great last-minute meal. Just pop it in the oven straight from the freezer at 325 Fahrenheit for an hour.
You may be thinking to yourself that this is manicotti. You would be wrong. Manicotti is made with Italian crepes. Don't worry. A lot of people make that mistake.
Marinara Sauce
2 Tbsp olive oil
½ cup onion, minced
2 cloves garlic, minced
2 cups canned tomatoes, whole and peeled
2 cups water
2 Tbsp parsley, chopped fine
1 Tbsp thyme, chopped fine
2 Tbsp basil, chopped fine
1 tsp sea salt
½ tsp black pepper
2 Tbsp tomato paste
Fry onion and garlic in oil until soft and lightly browned. Add tomato, water, and herbs to pan and gently simmer for 2–3 hours. Add more water if needed. Puree and add tomato paste. Cook until sauce becomes a dark red color, about another 30 minutes. Adjust seasoning. Sauce can be cooked much longer—as long as you want really. It just keeps getting better.
Béchamel Sauce
2 Tbsp unsalted butter
3 Tbsp all-purpose flour
3 cups whole milk or half and half
Pinch nutmeg
Pinch sea salt
Pinch white pepper
Melt the butter in a pot and wait for the foam to subside. Stir in the flour until it forms a thick paste. With the heat on low, cook the roux for a minute more to further extract the water from the butter. Then begin whisking in the milk slowly. Continue heating and stirring until the sauce is thickened. Add the nutmeg, salt, and pepper to taste. Remove from heat and use.