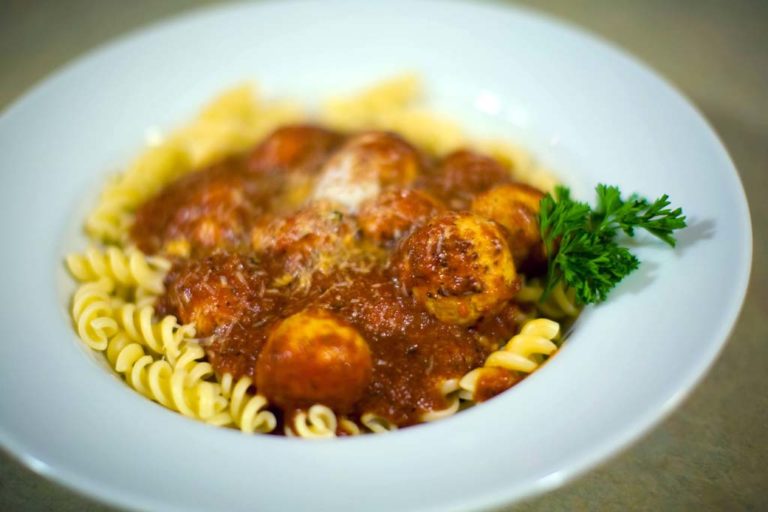 Chef's notes:
A meatball made from turkey can be a delicious, low-fat alternative to those made from pork and beef, but all health factors aside, turkey meatballs are just plain good. I think one of the key components that made these turkey meatballs so good was the homemade marinara sauce. I included a simple recipe for that as well, just to the right. Also, I think frying the onion and garlic before putting them into the meatball mixture helped to homogenize them into the mix, which I like when it comes to meatballs. No one likes little bits of onion sticking out of their meatballs, but if you do, by all means put them in raw; this is your recipe now.
Ingredients
1 pound ground turkey
¾ cup red onion, minced
3 garlic cloves, minced
2 Tbsp olive oil
¼ cup Parmesan cheese, grated
1 egg
2 Tbsp bread crumbs
1 Tbsp tomato paste
1 Tbsp horseradish
1 Tbsp milk
Salt
Pepper
Turkey Meatball Recipe: Onion, Garlic, Parmesean, and Bread Crumbs, served with Marinara Sauce
Prepare the ingredients. Luckily, turkey is easy to find already ground, so we don't have to deal with that mess. The other ingredients are pretty standard meatball ingredients. Fry the onion and garlic in a couple of tablespoons of olive oil until they are brown and soft.
Assemble the turkey meatball ingredients. Put everything into a bowl large enough to hold them all. Make sure you cool the fried onion and garlic before you add it to the bowl; otherwise, you may melt the cheese or cook the meat.
Mix the ingredients. Mix everything using a spoon or similar tool. In most cases, you will find that hands are the best tool to mix the meat with. Just remember to wash your hands well before and after. Next, fry up a little bit of the mixture to check the spice levels, and adjust accordingly.
Measure out the turkey meatballs. I like to measure out all the meatballs before I begin rolling them into balls; I believe it to be a more efficient method. Use a large spoon to measure out the mixture. If you are feeling ambitious, a scale would be more accurate.
Roll the turkey meatballs into balls. The turkey meatballs shouldn't be sticky, but if they are, spray a little cooking spray on your hands. Roll the meatballs between your palms in a circular pattern to get the balls round.
Fry the turkey meatballs in a frying pan. Heat up a couple of tablespoons of olive oil in a nonstick frying pan over medium-high heat. Roll the meatballs around in the pan to fry all the sides. Make sure you don't fry too many at once.
Finish cooking the turkey meatballs in a tomato sauce. Dump the cooked meatballs into the marinara sauce. Don't stir them; just shake the pan a little to coat them evenly. Cook over low heat for about ten minutes until a thermometer reads 160 degrees F when stuck in the middle of a meatball. Serve over pasta with a little grated Parmesan.
Tips & Tricks
I used red onion because it was sweeter, not because it was red. The red will be gone after it gets fried anyway. A sweet Vidalia, Walla Walla, or other sweet onion will do just fine.
If you don't have olive oil, use a combination of butter and vegetable oil.
Don't salt the meatball mixture too much until after you've checked the seasoning level by frying up a "tester" meatball. This way you don't over-salt the meatballs.
If your meatballs aren't sticking together, add more bread crumbs. If it gets too dry, add a little more milk or a little egg.
Mixing by hand is the easiest and quickest way to combine the ingredients unless you have a KitchenAid mixer.
Fry the meatballs in a nonstick pan because it's easier to clean up. We aren't worried about creating a pan sauce, so we don't need the stuck-on bits (fond).
The homemade marinara will take one to two hours to make, so start that first. If you have a tomato sauce that you like, by all means use it. I am sure it will be just fine.
Marinara sauce recipe
2 cans whole, peeled tomatoes
2 cups water
½ cup onion, minced
2 cloves garlic, minced
2 Tbsp olive oil
2 Tbsp tomato paste
Pinch of parsley, thyme, basil, salt, and black pepper
Fry onion and garlic in olive oil until soft. Add rest of ingredients and simmer covered for one hour. Smash tomatoes with a spoon pressed against side of pot. Cook over low heat until tomatoes are soft and sauce is of a good consistency. Use an immersion blender or food mill to puree sauce. Simmer down and adjust seasonings. If you want a darker sauce, add two teaspoons of molasses—a little bit of sugar may be nice too.