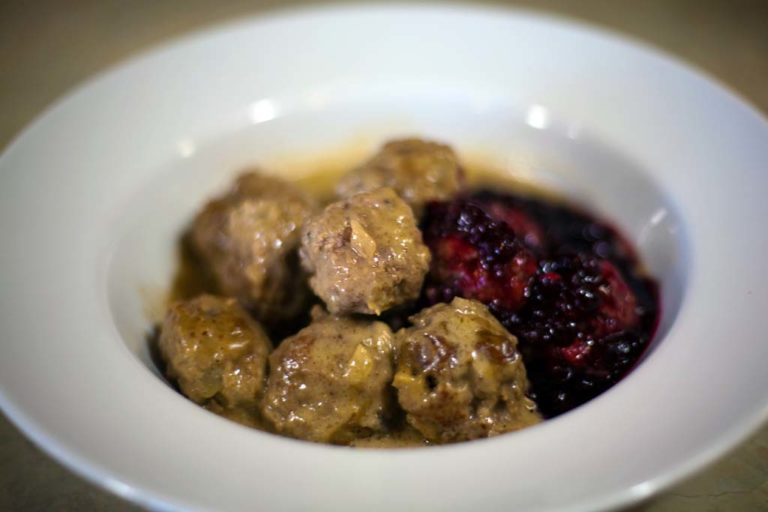 Chef's notes:
This recipe for Swedish meatballs is an amalgamation of various recipes that I have made and/or read over the years. I have always had a pretty decent memory, so I was able to combine certain elements of some of my favorite recipes to make my own perfect recipe. For the most part, Swedish meatballs are a pretty standard recipe. Usually they contain some combination of pork and beef, and sometimes veal is used. They also quite commonly include bread soaked with milk, almost a requirement for authentic flavor. But one thing that I think a lot of recipes drop the ball on is the spice that makes them taste like they're supposed to: allspice. Now you know what truly makes Swedish meatballs into Swedish Meatballs. That and Lingonberry sauce, for which I have also included a recipe.
Ingredients
¾ pound ground beef
¾ pound ground pork
¾ cup white bread cubes
3‒4 Tbsp half and half
2 egg yolks
¾ white onion, minced
3 Tbsp butter to fry onion in
2 tsp salt
2 tsp white pepper
½ tsp allspice
4 Tbsp butter to fry the meatballs
Swedish Meatball Recipe made with Ground Pork, Beef, and Allspice and Served With Gravy and Lingonberry Sauce
Pick up your meat and other ingredients. Usually this recipe is made with a 50/50 combination of ground beef and pork. But you could split it into a three-way by adding some ground veal. I would recommend using a leaner ground beef since you are adding pork fat. Beef fat is inferior to that of pork fat.
Start by soaking the bread crumbs in milk. You could use a couple slices of white bread, crusts removed, for this. Or you could use bread crumbs, which in fact prove much easier. Let them soak for about 10‒15 minutes and stir a couple times. Then add the egg and mix it together.
Add the fried onions and meat. Fry the minced onions in the butter until softened and lightly browned. Cool the onions before adding them to the milk, bread, and egg combination. Then add the ground meat, salt, white pepper, and allspice to the bowl, and mix it all together.
Shape and fry the meatballs in butter. Use an ice cream scooper, spoons, or a scale to portion out meatballs to your liking. Roll them between your hands to make them round. Then heat up four tablespoons of butter in a frying pan. Wait until it's hot and stopped foaming before you fry the meatballs. Brown on all sides, then remove to an oven-safe dish and preheat the oven to 350 degrees F.
Make the gravy from the drippings. After you've fried all the meatballs and put them in the oven-safe dish and into the oven for about 10 minutes, it's time to make the gravy. You will need about 3 to 4 tablespoons of fat in the bottom of the pan, so add more butter if needed. Whisk in four tablespoons of all-purpose flour until a paste is formed. Then stir in the beef stock over medium heat and whisk to a simmer. Once thickened, remove from heat and stir in the cream. Then adjust the seasoning to taste.
Finish the meatballs in the oven. Pour the gravy over the meatballs in the oven-safe dish and put it all back in the oven for another 10 minutes. After that time, cut a meatball in half to see if it's done. If not, put them back in the oven for a few more minutes. Once finished cooking, serve with the Lingonberry sauce on the side.
Tips & Tricks
You can adjust the proportions of pork and beef if you want to. Or you can try using other meats, too.
Remove the crusts from the bread. They will be tough and chewy if they find their way into the meatballs.
Wear some surgical gloves to keep your hands clean while you shape meatballs.
Frying the meatballs may be difficult, so as an alternative you could bake the meatballs in the oven. Some people use cupcake pans to bake meatballs. I hear it works well.
Gravy Recipe
Drippings with 3‒4 Tbsp of fat, add more butter if needed
2‒3 Tbsp all-purpose flour
2 cups beef stock
½ cup cream
Salt
Pepper
Lingonberry sauce recipe
½ pound lingonberries
½ cup water
¼ cup sugar
Simmer until reduced and thickened.