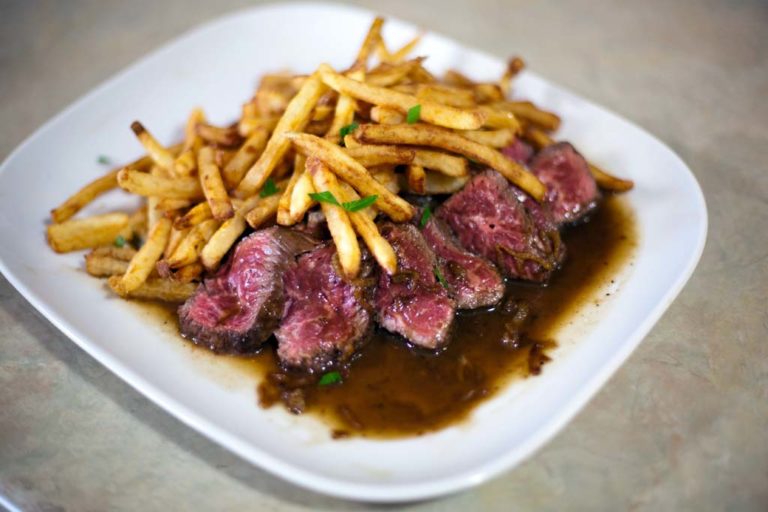 Chef's notes:
Steak frites is an extremely popular and incredibly simple combination of steak, pan sauce, and fries (a.k.a. French fries). But "French" fries are most likely a Belgian creation, and this would technically make them Belgian fries. We could just call them "frites" or "fries" and be done with it. The steak in the steak frites recipe could be any number of steaks, but preferably one of the following: shell steak (strip steak), cote de boeuf (rib steak), filet mignon (tenderloin), or onglet (hanger steak). For this article, I went with an onglet, or hanger steak. The hanger steak is one of the most flavorful and delicious steaks available. They are expensive but worth the extra money. Any of the other steaks would also work for steak frites.
Ingredients
1 onglet or hanger steak (1½ pounds), or other steak
Sea salt
Black pepper
3 Tbsp butter for frying
Frites (see below)
Beef Hanger Steak with Homemade Pommes Frites and a Shallot Demi-Glace Pan Sauce
Pick out the steak you want to use. Basically, whatever steak you like to eat will work with this dish. All you have to do is cook a steak really well (and not as in "well-done"). Then serve that great steak with some homemade fries and a pan sauce. It's a no-brainer.
Season the steak with salt and pepper. A tender steak doesn't need any help when it comes to flavor. As long as you have selected quality meat from a young animal (as in no more then three years old), you should be just fine. The hanger steak and skirt steak especially want little to no additional seasoning when prepared. These are two of the best tasting steaks, and you don't want to ruin that.
Pan-sear the steak in butter on the stove. Melt three tablespoons of butter over medium-high heat in a regular frying pan (nonstick makes lousy pan sauces). Once the butter has melted and the foam begins to brown, lay the steaks in the pan with a little space between them. Brown each side for three to four minutes. Use a thermometer to check for internal temperature (refer to the temperature guide in the section below).
Make the pan sauce for the steaks. Remove the steaks once they are up to temperature and let them rest for a few minutes while you make the pan sauce. Add the shallots to the pan and fry them until they are browned and crispy looking. Then deglaze the pan with the wine or demi-glaze and reduce until thickened like a nice sauce. Slice the meat thinly and serve with the pan sauce and fries.
Make the frites for the steak. Making fries is easy if you have the right tools (mainly a deep fryer or the confidence to deep fry in a deep pot). The best fries are deep fried twice: the first time at 225 degrees F until slightly yellowed, and then again at 350 until crispy. Remove the fries to paper towels, season with sea salt and eat right away.
Tips & Tricks
The following is a temperature guide. Rare: 120–125 degrees F; medium rare: 130–140; medium: 140–150; medium well: 150–160; and well done: 160+.
Filet mignon is pretty to look at and as tender as soft cheese, but it is quite expensive and doesn't pack much flavor.
A strip or shell steak is very flavorful, but unforgiving when it comes to overcooking.
The hanger steak is beautiful when sliced thinly across the grain, and it is also the most flavorful of the steaks. However, you cannot cook it past medium rare; it becomes tough and chewy at that point.
The cote de boeuf is a great in-between steak. It's is flavorful like a strip steak and tender like an rare onglet. The cote de boeuf, or ribeye as it's sometimes called in these parts, is also more affordable then the filet.
There are many other steaks that would be good in this steak frites recipe, so try them all to see what you like the best.
Frites Recipe
3 or 4 russet potatoes, shoe-stringed (batonnet or allumette)
½ gallon peanut oil
Sea salt
Pan Sauce Recipe
Drippings from the pan
2 shallots, sliced thin
2 Tbsp butter, for shallots
1 cup red wine (Bordeaux) or demi-glace for the pan sauce
Sea salt