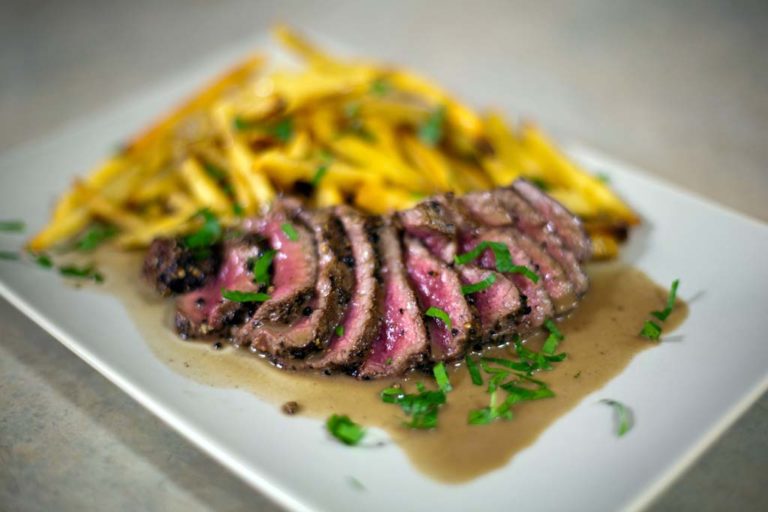 Chef's notes:
Steak au poivre is a very simple preparation of steak that is heavily seasoned with black pepper. It is prepared the same way as other classic French bistro steaks, such as onglet or cote de boeuf. These are traditionally pan fried or pan seared in butter until they are rare or (at most) medium-rare. You can of course broil or grill these steaks, but the advantage of cooking them in a pan is the creation of fond, which is essential for making pan sauce. The sauce formed by deglazing the fond in the pan is a big part of why these steaks are so good.
Ingredients
3 filet mignon (3–6 ounces each)
1 Tbsp black peppercorns
Sea salt to taste
3–4 Tbsp unsalted butter
3 shallots, thinly sliced
4 Tbsp demi-glace or beef stock
2 Tbsp cognac
2 Tbsp heavy cream (optional)
2 Tbsp softened butter (optional)
Steak au Poivre: Pepper Steak Pan-Fried in Butter, Served with Creamy Demi-Glace and Cognac Pan Sauce
Select your steaks and let them warm a bit. Steak au poivre recipes can be made with any cut of steak: strip steak, rib eye, hanger steak, or even sirloin. It just depends on what you can get your hands on. I chose filet because it's one of the more popular steaks and one of my favorites. Plus, it always impresses people when you serve them filet. My favorite is onglet or hanger steak. Try it if you haven't yet.
Crush the black peppercorns with the bottom of a pot. You won't want to use your pepper mill for this recipe. It will crush the peppercorns too finely. Instead, crush them using a heavy pot and a cookie sheet. You want the peppercorns to be broken into fourths or sixths if you can imagine it. Part of the thrill of this dish is the bits of crispy fried pepper that you occasionally bite into.
Pan sear the pepper steaks in butter. The steaks should be at or near room temperature before you begin cooking them. Season them with a little bit of salt and a whole lot of pepper chunks. Heat up three tablespoons of butter (or clarified butter if you have it) over medium-high heat. Once the butter is up to heat, fry each of the steaks 3 minutes on each side for rare, 5 minutes for medium-rare. To be sure, use a thermometer and the temperature guide at the bottom of the page.
Let the steaks rest for 5–6 minutes. I gave you some approximate cooking times above, but you should definitely double check with the thermometer to make sure. Once the steaks are done, let them rest for a few minutes. The more cooked they are, the longer they should rest. For example, a rare steak only needs five minutes to rest, but a medium steak may need up to ten minutes to rest.
Make the pan sauce for the steaks. While those steaks rest, make a quick pan sauce. Add the sliced shallots to the pan and cook them down for a couple of minutes. Then deglaze the pan with the stock or demi-glace and the cognac. Demi-glace takes a day or so to make—so plan ahead. Cook the pan sauce down until slightly thickened. As another option, you may also add two tablespoons of butter and/or cream to make the sauce more flavorful. If there is too much pepper in the sauce, it can be strained. Taste and adjust the salt. Eat the steak with the pan sauce and maybe some fries as soon as it's done resting.
Tips & Tricks
For the best way to test the doneness of a steak, use a thermometer and this temperature guide (all degrees measured in Fahrenheit): rare 120–125; medium-rare 130–140; medium 140–150; medium-well 150–160; and well-done 160+. Seriously though, don't cook them past medium.
Adding the cognac and cream to the pan sauce is optional, but it is quite good. You may also want to try adding mustard or Worcestershire sauce.