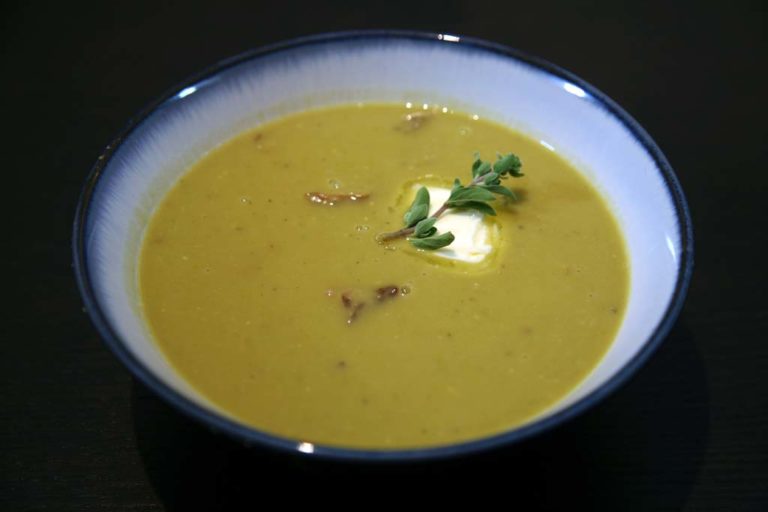 Chef's notes:
For many people, split pea soup is comfort food. For me, not so much. You see, my dad doesn't like split pea soup. We always made white bean soup with our ham bones. White bean soup is also really good. But I remember the first time I had split pea soup. I thought it was great; of course, I hadn't seen The Exorcist yet. It turns out that split pea soup has many different forms. In Germany, "erbsensuppe" is made with bacon or sausage and is served with swarzbrot. The Dutch "snert" has pork, celery, onions, leeks, carrots, potato, and smoked sausage. Pea soup is eaten in France, Canada, and all the Nordic countries. In the U.K., "pease porridge" or "pease pudding" was seen as a poor person's food. But here in America, we all eat and enjoy split pea soup . . . except for my Dad. He still hates it.
Ingredients
1 smoked ham hock
1 pound green split peas
10 cups water
1 onion
2 carrots
1 leek
3 cloves garlic
5 sprigs parsley
5 sprigs marjoram
2 sprig thyme
3 bay leaves
Black pepper
Salt
Homemade Split Pea Soup with Smoked Ham Hock, Marjoram, Thyme, Leek, Garlic, and Onion
Soak the peas in cold water for 2 hours. Wash the peas and pick through them to locate any duds and/or stones. The jury is still out on whether or not we need to soak split peas. I have heard that soaking only reduces cooking time by 30 minutes. But I think soaked peas taste better and cook more evenly. Soak them for 2 hours in 4 cups of water. Regardless, it is a good idea to wash them and look for foreign objects like stones.
Get the other ingredients for the soup together. Prep the other ingredients while the peas soak. Mince an onion, dice two carrots, and mince 3 cloves of garlic. Cut the white part of the leek into rings, and wash them again. Leeks have dirt between their layers. Make a bouquet garni with the thyme, marjoram, bay leaf, parsley, and the green part of the leek. Use the pictures down below for guidance.
Simmer the soup for 1 ½ hours covered. Put the ham hock, peas and water, onions, leek, garlic, carrots, and bouquet garni into a large stock pot. Add 4–6 cups more water, cover it, and start cooking it. Lightly simmer the soup, covered, for 1 ½ hours. After this, the peas should be tender, but they shouldn't be falling apart yet.
Remove the ham hock and scrape off the meat. Using a pair of spring-loaded tongs, pull out the ham hock. Scrape the meat off the bone in as big of pieces as you can. Put the bone back in the pot and continue to simmer the soup for 30 minutes, still covered. Chop the ham meat into small, bite-size cubes. I got this smoked ham hock from my brother. He raised a couple pigs last summer.
Puree the soup with a stick blender. The nice thing about stick blenders is that you don't get pea soup on the ceiling. Because, as you may know, it can be tricky blending scalding hot soup in a regular blender. Before you start blending your soup, remember to remove your bouquet garni and the ham bone. After you get a good consistency, add the ham back. If the soup is watery, cook and stir the soup, uncovered, for a few minutes over low heat. Serve the soup with buttered toast or crackers.
Tips & Tricks
Switch it up. Instead of green peas, use yellow split peas. Or try caramelizing the onions before you add them.
If you don't have a smoked ham hock, use a ham bone or a ham steak. I have even seen recipes with poultry bones or fish heads. Be creative.
For a fresher-tasting soup, use fresh peas. In France, it's called Potage Puree de pois frais, dite Saint-Germain.
A knob of butter is a nice way to soften the flavors of the soup. And it looks nice.