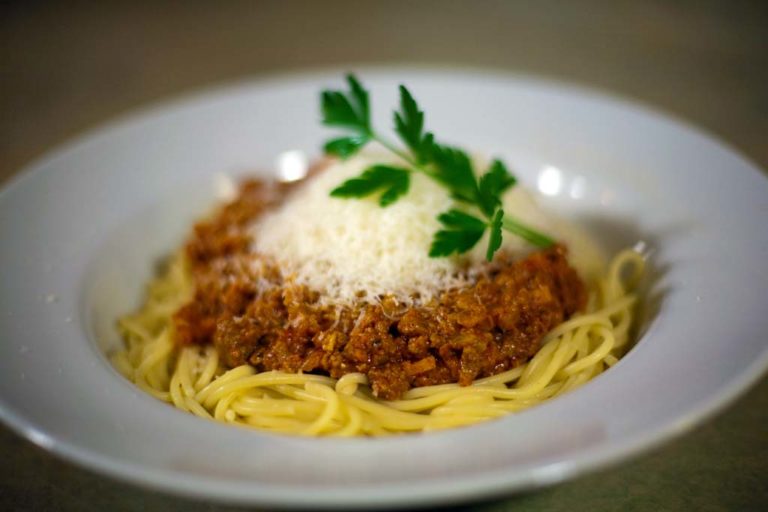 Chef's notes:
Spaghetti alla bolognese, although quite popular throughout the world, has never been popular in Bologna. In Bologna, they serve their sauce with freshly made tagliatelle or green lasagna. The recipe that I am using for this article is a slight variation of the traditional recipe for bolognese from Bologna. The main difference is that I am using ground beef instead of cubed beef. My spaghetti bolognese recipe also has a lot more tomato in it. But, as you can tell by the orange color, it definitely has less tomato then a spaghetti sauce. I also omit the pancetta and instead fry the soffritto in oil and butter.
Ingredients
3 Tbsp olive oil
1 Tbsp butter
½ cup onion, minced
½ cup carrot, minced
½ cup celery, minced
2 cloves garlic, minced
1 pound ground beef
1 cup whole milk
2 Tbsp tomato paste
½ tsp sea salt
¼ tsp black pepper
1/8 tsp nutmeg
1 cup white wine
1 28-oz. can of chopped tomatoes
1 pound spaghetti noodles
Parmigiano-Reggiano
Spaghetti Bolognese Recipe: Ground Beef, Soffritto, Garlic, Whole Milk, White Wine, Nutmeg, and Tomato
Get the ingredients for Bolognese together and get them ready. The original recipe for Bolognese ragu, which this recipe is based on, allows for the use of pork, veal, poultry, or other types of meat. I used beef because it's a crowd-pleaser. The success of this spaghetti bolognese recipe rests in the quality of its ingredients because it's only lightly seasoned with nutmeg.
Fry the onion, carrot, and celery in oil and butter. Mince the celery, carrot, and onion into about the same sized pieces and fry them lightly in the butter and olive oil. In France this combination of vegetables is called a mirepoix, but in Italy it's known as soffritto. This particular soffritto is only cooked until soft and translucent. Not brown.
Add the ground beef to the soffritto. Once the vegetables are cooked soft and translucent, add the ground beef or whatever meat you wish to use. Fry the meat with the vegetables, stirring and chopping it up to get it all brown. Use a wooden spoon. Use a plastic spoon if you are using a nonstick pan.
Add the milk and cook it down. After the meat is browned on all sides—about 10 minutes—add the milk and stir it in. Keep stirring and cooking the mixture uncovered until the milk is evaporated. Then mix in the tomato paste. Cook for five more minutes.
Stir in the wine and tomatoes. Then add the wine and tomatoes. Turn the heat down to medium and bring the mixture up to a simmer (not a violent boil, as that will make a mess). Simmer and stir the sauce uncovered for at least two hours.
Cook the sauce down to a good consistency. If you want to cook the sauce for longer then two hours, add a little water, light stock, or wine to it. I find that two hours is pretty good for ground meat. Taste it and adjust the seasoning. If you find it needs more flavor, add a little thyme to it.
Boil the spaghetti noodles to al dente. For one pound of pasta, put eight cups of cold water in a clean pot and add three teaspoons of salt. Heat the water to a rolling boil and stir in the spaghetti with a pair of tongs. Boil gently for eight minutes while stirring every 30 seconds. Occasionally remove a noodle and test it by biting it. Once the crunch is gone, but the noodle is firm, remove from heat and drain. Serve with sauce immediately. Top with a generous amount of Parmigiano-Reggiano.
Tips & Tricks
A leaner ground beef will work better for this recipe as there is already plenty of fat to fry the meat. Plus, there will be less fat floating on top of the sauce.
Make sure to check your olive oil before you use it. It can spoil fairly quickly. If it smells foul or tastes bad, don't use it.
Cooking the meat with milk is one of the things that really separates this sauce from other pasta sauces.