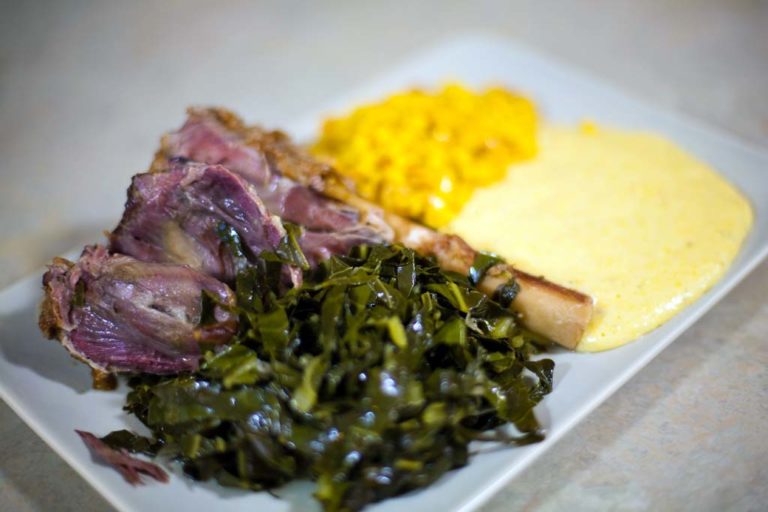 Chef's notes:
Collard greens love to be cooked with smoky meats like smoked ham hocks, ham, and bacon. So when I found these smoked lamb shanks at my local foodie market, I had a "what if" moment. What if I tried to cook these smoked lamb shanks with collard greens? I thought about it for a few minutes and, after a bit of quick research, wrote this recipe. Basically, it's a recipe for collards that can be used with any type of smoked meat, which is fortunate; most of you will be unable to find smoked lamb shanks. You could make them yourself, if you think you're up to it. Oh, and I am also including a recipe for cheesy grits. I mean, you gotta have grits with this dish.
Ingredients
3 smoked lamb shanks
3 cups chicken stock
2 cups white wine
2‒3 cups water
4 Tbsp butter
2 small onions, minced
3 cloves garlic, minced
1 pound collard greens
Sea salt
Black pepper
Smoked Lamb Shanks Braised with Collard Greens in White Wine, Chicken Stock, Onions and Garlic
Track down some smoked lamb shanks. These lamb shanks here were found at a local foodie market where they specialize in fancy stuff. It's actually attached to one of the best restaurants in the Twin Cities, and they sell stuff that they use in the kitchen. So it's fun to shop there. If you can't find smoked lamb shanks, try using smoked ham hocks, smoked pork chops, or even bacon.
Simmer the smoked lamb shanks in the liquids. Pour the wine and stock in a high-sided pot or kettle and lay the smoked lamb shanks in the bottom. Add two cups of water; if you need a little more, add one to two cups more. The liquid should be about ¾ of the way up the side of the shanks. Simmer the shanks, flipping them over once in a while, for 20 minutes.
Fry the onion and garlic in the butter. While the smoked lamb shanks are simmering in the liquid, melt the butter in a frying pan. Add the onion and garlic to the pan and fry over medium heat. Once the onions and garlic are brown and soft (and maybe a bit crispy), add them to the smoked lamb shanks, butter and all.
Wash and slice the collard greens. Wash each leaf individually, on both sides, under cool running water. Shake off the excess water and remove the center vein with a knife. Then lay it flat on a cutting board. Do this to about five leaves; then roll all of them up into a tube and slice into thin strips. This is the fastest and easiest way to cut up these big leaves.
Cook the collard greens with the smoked lamb shanks until they are tender. After the lamb shanks have been simmering for 20 minutes, add the sliced collard greens to the pot. Put them right on top, add a little salt, and put on the lid. Let them boil/steam for a few minutes. Then begin stirring the greens and flipping them over to help them cook. They will need to cook for at least 20 minutes before they get tender, maybe longer. Once they are tender to the tooth, remove from the heat and serve with some hot sauce. And, of course, some homemade cheesy grits!
Tips & Tricks
Smoked lamb shanks may be hard to find. Try substituting ham hocks, smoked pork chops, or bacon. You may want to reduce the amount of liquid if you go with the bacon. Try adding just three cups of liquid instead of seven.
This recipe can be made simpler by frying the onions and garlic in the same pan as you plan to cook the shanks in. Once fried, add the liquid, deglazing the pan and adding even more flavor. Then continue with the recipe, skipping step 3. Cleanup will be easier, too.
The recipe for cheesy grits is very easy. You just have to be watchful so they don't burn.
Cheesy Grits Recipe
2 cups heavy cream
2 cups water
1½ tsp salt
1 cup coarsely ground cornmeal
4 Tbsp butter
6 oz Colby jack or cheddar cheese
Heat up the cream with the water and salt, over medium heat, until a gentle simmer is achieved. Stir in corn meal and whisk every 30 seconds as it cooks. Once cooked (about 20 minutes), stir in the butter and grated cheese. Serve quickly.