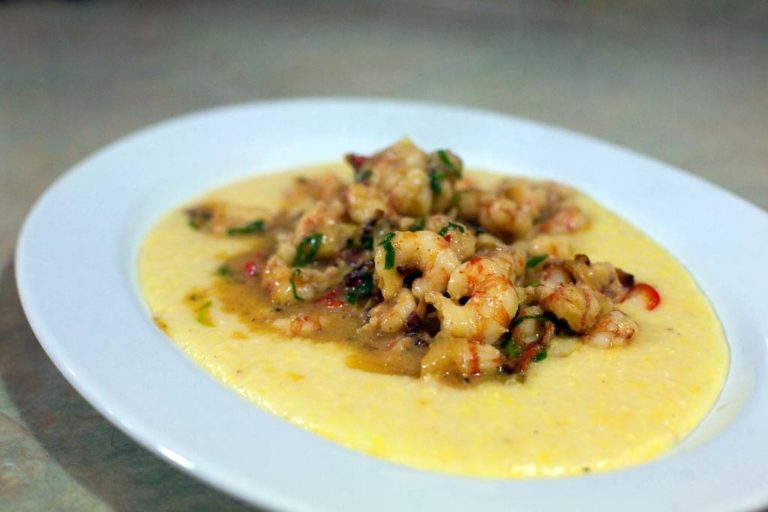 Chef's notes:
Shrimp and grits recipes span the southern United States from Charleston to East Texas, and everywhere in between. And as you can imagine, some versions, for example Cajun Shrimp and Grits, are spicier than others. There will also most likely be some andouille sausage in there. Mmmm, that sounds good. I use bacon in my recipe and it's just a tiny bit spicy. You can always add some pepper sauce at the table if you want yours spicier. You can add some andouille, too, if'n you want to.
As for the grits, I went with coarse grind yellow cornmeal. I like hominy grits, too; I just like yellow grits better. These grits have just a small amount of cheese in them. I usually add a lot more cheddar, but for the shrimp I wanted to keep the cheese levels low so as to not cover up the shrimp flavor. I cooked my grits with water and salt, but chicken stock would have been good, too.
Ingredients
2 strips bacon, minced
1 Tbsp butter
1 Tbsp olive oil
1 cup onion, fine mince
2 lbs shrimp, peeled and deveined
½ cup dry white wine
1 cup chicken stock
4 cloves garlic, thinly sliced
1 Tbsp parsley, minced
1 Tbsp hot red pepper, minced
1 tsp lemon zest
2 Tbsp lemon juice
Salt and White Pepper to taste
Shrimp and Grits Recipe: Shrimp Sauteed with Garlic, Wine, and Lemon - Over Homemade Slightly Cheesy Grits
Buying the right shrimp. The most important decision you have to make concerns the shrimp. I always insist on buying raw shrimp since cooking is one of the few factors you control when it comes to shrimp. Next, you must decide if you want whole, peeled, or deveined shrimp. That is totally up to you and your dinner guests. Lastly, raw thawed shrimp may not always be an option. And since most of the time that shrimp was thawed by the people selling it, you may as well buy frozen shrimp and thaw them yourself.
Chop, slice, thaw, and mince the ingredients. With a dish like this, we are basically looking to make a sauce to act as a vehicle for the shrimp to help them find their way into our mouths. Unlike a stir-fry, where the vegetables are equals to the meat, in this dish they are back-up singers. We want the other ingredients in the sauce to be small and unnoticeable in comparison to the shrimp. So we mince them and cook them down so they melt into the liquid. But don't over-cook the shrimp! Take the shrimp out while we reduce the sauce.
Start cooking the grits. Before we cook the shrimp we need to start cooking the grits. Cooking grits from scratch, as one should, takes between 20 and 30 minutes. You want to make sure you have enough liquid simmering before you add the coarse cornmeal. For 1 cup of meal, use 5–6 cups of water and salt, or chicken stock. Heat the liquid up to a simmer over medium-high heat and add the cornmeal, then turn the heat down to medium. Stir occasionally at first. Once a simmer has been reachieved, stir almost constantly with a whisk until the grits are tender. Add more water if needed. Milk would be good, too. Then stir in 7–8 Tbsp butter and 1–2 oz cheese. Taste and adjust the salt levels. Serve right away.
Saute the shrimp and serve with the grits. As you stir the grits simmering away on the stove, cook the shrimp. Saute the 2 strips of minced bacon over medium+ heat in 1 Tbsp butter and 1 Tbsp olive oil until lightly browned. Then add the 1 cup of minced onion and saute until the onion begins to brown and look caramelized. Then add the thawed shrimp and cook until they begin to change color and are about halfway cooked; cut one in half to see. Remove the shrimp, add the ½ cup wine and 1 cup chicken stock, and reduce over medium heat until it makes a nice sauce. Then add the shrimp back to the pan along with the garlic, parsley, pepper, lemon zest, and juice. Heat the shrimp through with about 2 minutes of tossing and stirring. Then taste and adjust the salt level. Serve over the grits and eat immediately.
Tips & Tricks
The shrimp will thaw overnight in the fridge. But make sure they're in a bowl because some liquid will come out.
Instant grits are not to be used, except in an emergency. But remember, grits from scratch are super easy and way better.
The liquid in the pan will reduce to ⅓ or ¼ of its original quantity before it gets thick enough to be a sauce. As long as the onions were properly caramelized, they will help thicken the sauce a little.
Grits Recipe
1 cup coarse cornmeal
4–5 cups cool water, or chicken stock
½ Tbsp salt
7 Tbsp butter
1 oz cheese