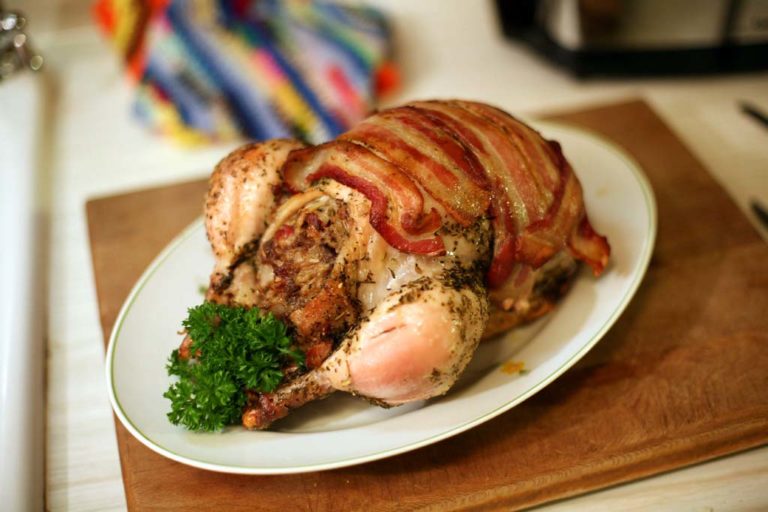 Chef's notes:
As many of you know, roasting a stuffed chicken is tricky business. Stuffing takes a really long time to reach a temperature hot enough to be safe. By that time, the meat is almost sure to be dry. Over the past few years, I have sworn by the unstuffed roasting technique. The unstuffed bird was quicker to cook, harder to overcook, and yielded a crispier skin. And yet, the challenge of roasting a stuffed bird was too hard to pass up. I was sure I could do it, so I just had to give it a try. And the result? Utter bliss and complete satisfaction. Read on, you crazy roaster.
Ingredients
4-pound chicken
4‒5 strips bacon
Herbes de Provence
Sea salt
Black pepper
Stuffing
Chicken Stuffed with a Mixture of Bread Cubes, Pear, Sage, Bacon, Onion, and Almond
Purchase a chicken. I always encourage people to buy the best chicken you can get your hands on—the best according to your preference. For me, it's free-range and organic. I was raised on home-grown chicken so I developed a taste for the good stuff. Once you get your chicken home, give it a rinse and check the cavity for surprises. Pat it dry with paper towels and clean the sink with soap and water.
Stuff and season the chicken. To the right you will find a stuffing recipe that I wrote for this article. I love stuffing of all kinds. I wrote this particular recipe while driving to my grandmother's house. It turned out to be the best stuffing I have made to date. Season the chicken with the herbs, salt, and pepper before you stuff. Use a large spoon to fill the cavity with stuffing. Tying the legs together will keep them from opening while cooking.
Bacon will help keep the breast meat from drying out. Move the oven rack to the lower-middle of the oven, and preheat to 450 degrees F. This chicken will be roasted twice as long as an unstuffed bird, so we want to protect the breast meat. Laying bacon on top of the breasts will keep them from getting overcooked. This is a classic French cooking technique called "barding"; it works really well.
Prepare to roast the stuffed chicken. To prevent the chicken from drying out, roast it covered from start to finish. I used aluminum foil, but a pan with a lid is preferred. Covering the pan will also create a lot more steam which will help cook the chicken faster. Place a thermometer through the foil and into the center of the stuffing to monitor the temperature as it cooks.
Roast the stuffed chicken. Check the chicken after an hour. My four-pound chicken took over 2 hours to roast at 450 degrees. But the true measure is when the stuffing reaches 155 degrees. If you want to crisp the exterior, roast it uncovered for the last 20 minutes. Let the stuffed chicken rest for 20 minutes before you eat it.
Tips & Tricks
Buy a nice-looking, good-smelling chicken.
Use homemade stuffing; the boxed stuffing pales in comparison. Plus, stuffing is one of the easiest things in the world to make. The recipe that I wrote for this article benefited from homemade chicken stock and homemade bread.
Another way to boost the flavor of your stuffed chicken is to brine it first; read my recipe for chicken brine.
Bacon really boosts the flavor and keeps the chicken from drying out; use good bacon.
You may crisp up the skin of your chicken by popping it under the broiler for a couple minutes. Keep an eye on it.
The juice in the bottom of the pan is a mixture of fat and juice; it would probably go well with the chicken.
Pear, Sage, and Almond Stuffing Recipe
3 cups whole grain bread cubes
1 cup dark rye bread cubes
12 almonds, chopped small
1 tsp sage
3 strips bacon, minced
1 pear, peeled and diced
1 small onion, minced
2 cloves garlic, minced
2 Tbsp butter
1‒2 cups chicken stock
Salt and pepper to taste
Fry the bacon, onion, garlic, and pear in the butter for 4 minutes on medium heat until soft. Deglaze pan with 1 cup chicken stock. Place bread cubes, almonds, and sage into a bowl and pour the pear mixture over it. Mix briefly and add more stock if the stuffing is dry. Season with salt and pepper to taste.