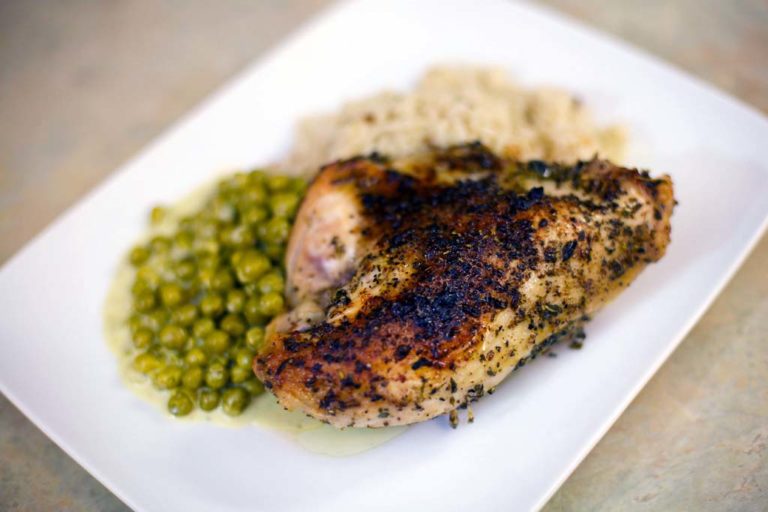 Chef's notes:
Chicken breasts are a very popular meat. For many families, chicken is the only animal protein their kids will eat. As a matter of fact, chicken breast is one of the best sources of protein. So, seeing as chicken breasts are so popular and important, I better weigh in on how best to roast them. A good way to start is by having a look at the recipe – Brined Chicken Breasts. After you've brined your chicken breasts, continue with the recipe below. If you'd rather roast your chicken breasts without brining them, add a little more salt when seasoning.
Ingredients
2 brined chicken breasts
Sea salt, a tiny bit
Black pepper, to taste
Herbes de Provence, to taste
Brined Bone-in Chicken Breast Recipe Roasted with Sea Salt, Black Pepper and Herbes de Provence
Purchase some chicken breasts. I find that roasting on the bone is always preferable to roasting boneless meat. The chances of meat drying out on a bone are far less than off the bone. This is especially true for chicken breasts, one of the leanest meats on the market.
Season the chicken breasts. As I mentioned above, if you have brined your chicken breasts you will not need to season them with much (if any) salt. Season them with pepper and/or an herb blend. My favorite herb blend for chicken is Herbes de Provence, which you can find in the spice aisle. But if you'd rather mix your own, follow the recipe on the right.
Roast the chicken breasts in a preheated oven. Preheat the oven to 450 degrees F. I roasted my chicken breasts in an 8-inch non-stick skillet; it was the perfect size, had a handle, and made for quick cleanup. Once the oven is up to temp, place the chicken breasts in the middle of the oven and close the door. Roasting time will depend on many variables; temperature is a much better way to determine when they are done.
Remove the chicken breasts once they're up to temp. The target internal temperature for chicken is 161 degrees. This may take anywhere from 20‒30 minutes. Check the internal temperature after roasting for 20 minutes, and every 4 minutes after that, until you reach that mark. This will also help you better understand the relationship of heat and time and their effect on meat, which will make you a better cook. Once the chicken is done, let it rest for 10‒15 minutes before you eat it.
Tips & Tricks
Buy chicken breast on the bone for roasting; otherwise, your chicken breasts may end up dry and lacking flavor.
Buy chicken breast that looks and smells fresh, and not sour or slimy.
For extra flavorful chicken breasts, brine them for 4‒5 hours before roasting.
Season brined chicken breasts moderately, particularly if using salt.
Roast the chicken breasts in a preheated oven to get the skin crispy and yummy.
If the chicken breasts are almost done but the skin isn't yet crispy, turn on the broiler for 4 minutes.
You can toss a couple smashed garlic cloves in the bottom of the roasting pan, but don't add much else; this may create too much steam, which is not good for dry roasting.
Provencal Herb Blend
Thyme
Savory
Lavender
Tarragon
Marjoram
Oregano
Fennel
These are also sometimes included in the recipe: