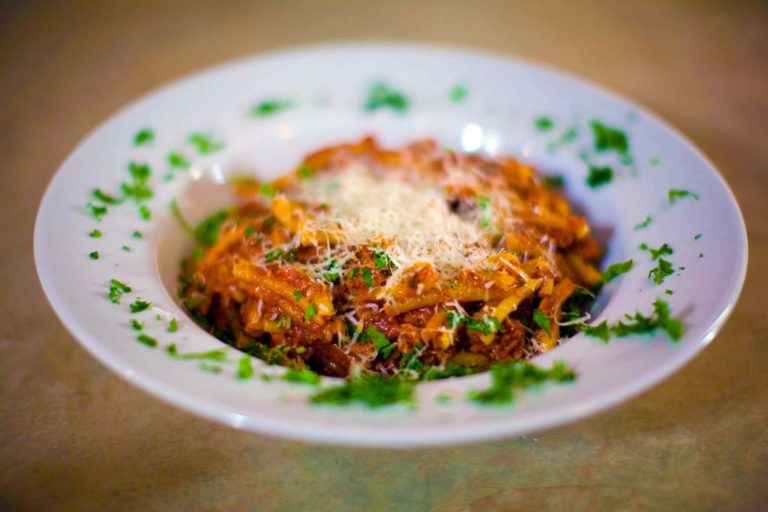 Chef's notes:
A ragout is a French stew that can be made with or without meat. However, it is based on ragù, an Italian creation which is almost always a meat-based sauce. Two of the most popular ragùs are ragù alla bolognese and ragù alla napoletana. The recipe that I am using here is neither of those two famous dishes. Instead, my recipe is based on the principle that ragù is not just any one sauce but a method of preparing a sauce. It's the action of making it, combined with a few key ingredients that makes the ragù. Basically, you have the meat, the vegetables, the herbs and spices, the liquid, and the time. Ragù cooks for a long, long time.
Ingredients
2 Tbsp olive oil
6 strips bacon, chopped
3 pounds pork, cubed
1 tsp fennel seed, ground
½ tsp sage, ground
½ tsp black pepper, ground
1 tsp salt
½ cup sugar
1 tsp lemon zest
1 celery stalk, minced
1 carrot, minced
1 onion, minced
2 shallots, minced
4 cloves garlic, minced
2 cups white wine
2 cups beef stock
2 cups crushed tomatoes
Juice of ½ lemon
2‒3 Tbsp tomato paste
3/4 # casarecce pasta, cooked al dente
Parmigiano-Reggiano, shredded
Pork Ragù Recipe made with Fennel, Sage, Onion, Carrot, Garlic, White Wine, Pasta and Parmigiano-Reggiano
Assemble the ingredients for the pork ragù. For this pork ragù, I have chosen to use a big chunk of pork leg and some bacon as the meat. The spices I am using, sage and fennel, are common pork spices. For the vegetables, I am using celery, carrot, onion, garlic, and shallot. For the braising or stewing liquid: veal stock, crushed tomatoes, and white wine. Plus some tomato paste for a flavor boost. The pasta I am using is casarecce; they hold sauce very well.
Prep the ingredients for the pork ragù. I like to prep all my ingredients and put them into bowls for each step. I find it helps me to break the recipe down into stages and cook them that way. The meat is trimmed and cubed. Leave some of the fat on the pork, as it will melt into the sauce. Clean and mince the garlic, shallot, onion, celery, and carrot. Measure out the liquids as well.
Brown the pork with the spices. Pour two tablespoons of olive oil into the pot and heat it over medium-high heat. Then toss in the bacon first and get its fat melting into the oil. Then add the cubed pork and start browning it. Add the ground fennel, sage, pepper, salt, sugar, and lemon zest. Stir it in and keep frying the pork until it's completely browned and beginning to get dark brown in some places.
Add the minced vegetables to the pork. In Italy I believe they would have cooked these vegetables separately and made a soffritto. And in a way I kind of wish I had. A soffritto is when you fry the vegetable mixture in olive oil until it gets a nice caramely brown color. A soffritto brings a lot to the flavor party. Nonetheless, this way will work too. I still enjoyed the results. Basically you want these vegetables to melt.
Add everything else to the pork. The pork and vegetables should be nice and browned before you add the liquid. There should be a few bits stuck to the bottom of the pan (fond). That way when you add the wine, stock, tomato, and lemon juice to the pan, it sizzles and erupts in a plume of steam. The caramely stuff stuck to the pan and meat will release and add a load of flavor to the ragù.
Simmer over medium low heat for 3‒6 hours. How long you simmer your ragù is going to be up to you. As it simmers away on the stove all day, check on it frequently and taste it. It will be fun to observe the change in flavors as it cooks. Let it cook down until the liquid is low and then add a little more stock to bring it back up. And then do it again. Keep going until you think it tastes perfect. Then boil up your favorite pasta and serve it with the ragù, with a Parmigiano-Reggiano on top.
Tips & Tricks
Don't adjust the seasoning until it gets closer to the time you want to eat it.
The pork I am using is called fresh ham, which means it's from the unsmoked ham or leg of a pig. It's good meat if you can find it. Otherwise just use pork shoulder or loin.
For the wine, I went with white because it won't dominate the flavor profile as much as red wine would.
The spices I'm using, fennel and sage, are common in Italian sausage, which is also commonly used to make ragù. Coincidence? I think not.
The vegetables can be cooked separately in olive oil to boost their flavor. Plus, it will be easier to brown them without the meat getting in the way. Italians refer to this method of cooking as soffritto.
As the ragù is cooking over medium heat, you may choose to cook it covered or uncovered. Either will work. If it's covered, it will cook quicker but the liquid will cook off slower. Uncovered it will cook slower but the liquid will cook off quicker. I went with covered.
The longer it cooks, the more the meat will fall apart.
Serve with a nice al dente pasta and some shredded Parmigiano-Reggiano.