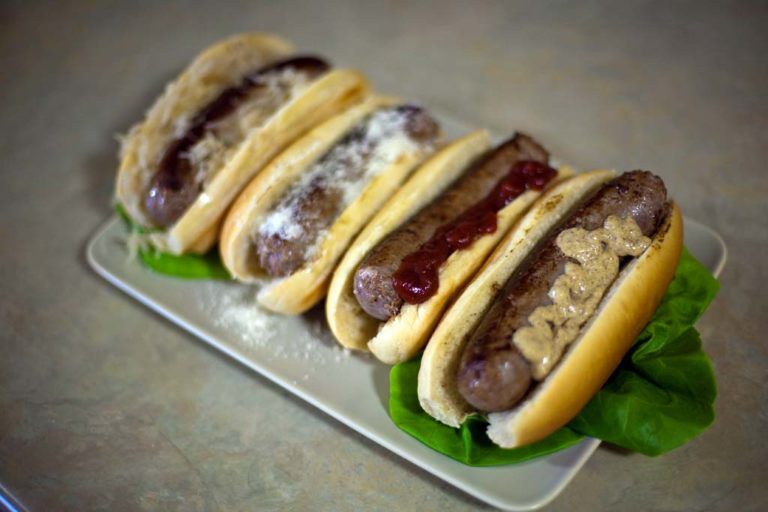 Chef's notes:
Not everyone has access to deer bratwurst, but for those of you who do, you may be wondering how to cook them. One of my favorite ways to cook deer bratwurst is to grill them. Be careful not to overcook them, as they dry out quickly. My second preferred way to cook venison bratwurst is to pan fry them. There is less of a chance of drying them out with this method, but you must still be wary of overcooking because venison is such a lean meat. To avoid overcooking, use a digital thermometer and remove them from the heat once they reach 155 degrees F. If you don't have access to venison bratwursts, another variety of bratwurst will work, too.
Ingredients
4 deer bratwurst
Butter or oil for frying
Bratwurst buns
Venison Bratwurst: Pan-Fried in Butter and Served on a Bun with Onions, Ketchup, Mustard, Relish, or Bacon
Pick up some venison bratwurst. These bratwursts were made by a local sausage and meat processor in my hometown. With this and many other operations like it, you must provide the venison meat yourself. When it comes to venison, it can be a fairly involved but rewarding process. The venison is combined with some pork and spices and made into the delicious bratwurst pictured here.
Begin pan frying the bratwurst. As you can see, these bratwursts are natural casing, as in intestines, which is much more preferable to the synthetic casings, in my opinion. To fry the brats, heat up a large frying pan over medium to medium-high heat, and melt 2 tablespoons of butter in the bottom. You may also use olive or vegetable oil, but I prefer butter. Once the butter is melted, lay the brats in and put on the lid for 2–3 minutes of cooking.
Brown the bratwurst and 3–4 sides. After 3 minutes, remove the lid and flip the brats over to a new side. Replace the lid. Continue flipping them over to new sides every couple of minutes to brown all the sides that you can. The lid will help to cook the center of the bratwursts by increasing the ambient temperature of the pan. It also creates steam, a.k.a. wet air, which is better for cooking than dry air.
Check the internal temperature of the bratwurst. After 10 minutes or so of pan frying the bratwursts, check the internal temperatures of the bratwursts. Once they reach 155 degrees F, remove them from the heat and let them rest for about 10 minutes before you eat them. If they are not up to temp yet, put the lid back on and cook them for a few more minutes.
Tips & Tricks
If you are having trouble finding any venison to make brats, check with a friend or neighbor, or buy some pork brats instead.
If the brats are getting too dark, turn down the heat a bit. You don't want to burn them.
Try not to poke holes in the skin of the bratwursts. That would cause them to leak all their juices, or even cause the juices to come gushing out like a geyser and burn off your face.
Don't add water to the pan. Putting the lid on will add all the water the brats can handle. Too much more and you won't be pan frying; you'll be boiling the bratwursts.
Accoutrements
Bacon bits
Ketchup
Mayonnaise
Mustard
Onions
Parmesan
Peppers
Pickles
Sauerkraut