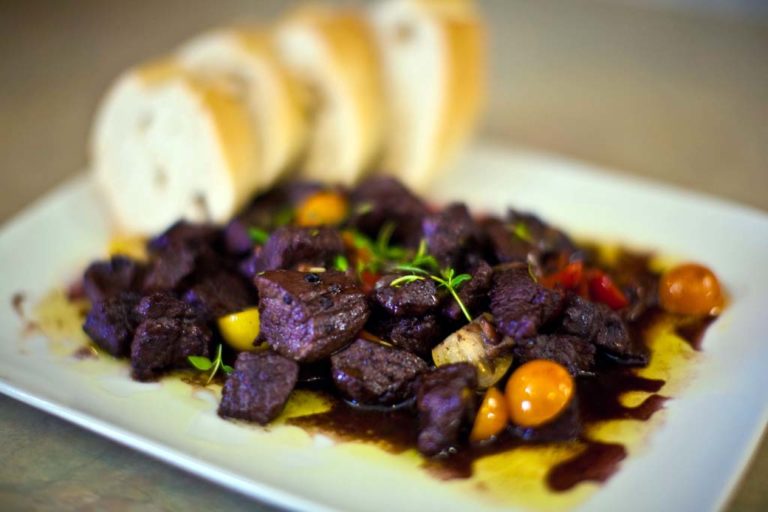 Chef's notes:
Beef tips, tenderloin tips, sirloin tips, and so on are an extremely common thing to see on menus these days. Usually you see them on the appetizer menu or on the "tapas" menu. Like all things delicious, it originates from someone just trying to use up the leftover bits and make them edible. But of course you don't have to do much to tenderloin to make it edible. So obviously we are quite removed from those simple origins.
The key with any tenderloin tips recipe is to keep it simple and to make sure that you make plenty of sauce in which to dredge your bread. In this recipe, as with many written by those of us who are in the know, the olive oil is added at the end, drizzled over the top. It's like a condiment, and it becomes an important component of the sauce. Make sure to use a really good olive oil too.
Ingredients
1/2 lb. beef tenderloin
Sea salt
Black pepper
2 Tbsp butter
3‒4 Tbsp extra virgin olive oil
7 cloves garlic
1‒2 cups ruby port
Cherry/grape/plum tomatoes, halved
Thyme and rosemary, chopped
Crusty bread
Beef Tenderloin Tips: Pan-Fried in Butter, Garlic, Ruby Port, and Served with Olive Oil and Crusty Bread
Buy a piece of beef tenderloin from the butcher. Some butchers may have tenderloin trimmings they sell for a few dollars less than a full piece of beef ternderloin, so ask. Especially if they sell filet mignon or Chateaubriand, which would mean that they trimmed tenderloins and therefore had some odds and ends. The bit of meat in the photo to the right is from a tenderloin roast that I had done the week before.
Cut up the tenderloin into little triangles or tips. I start by trimming them down into 1″ x 1″ strips of meat. Then I just cut them into triangle shapes by alternating the angle of the blade. Then season them with salt and pepper, just a little, less than you would for a roast. Then smash the garlic cloves and remove the skins. Then smash them until they are bruised and juicy. Melt 2 tablespoons of butter in a frying pan on high heat.
Pan fry the tenderloin tips and garlic over high heat. Turn the tips often and keep an eye on the garlic to make sure it doesn't burn. If you keep it moving around with a spoon or spatula, you should be able to avoid burning everything. The bottom of the pan should be getting nice a brown with stuff sticking to it, which is why we don't use nonstick pans when we make pan sauces.
Just before the garlic turns black, add the port. Pour all 1 cup of it in at once. Use a flat-bottomed spoon or spatula to scrape at the bottom of the pan as the port reduces. The key with this step is to reduce the port and get it stuck to the meat. So basically you will cook it over high heat, stirring and mixing until the port is almost gone. Then toss in your halved grape/plum tomatoes and remove from the heat.
Plate the tenderloin tips and return the pan to the heat. Then add another 1/2 cup of port to the pan, and stir it to get all the little bits off the bottom of the pan. Reduce that mixture just a little bit, less than half. Then pour that over the plated tenderloin tips. Then drizzle some very nutty olive oil over the top, about 3‒4 tablespoons. In the end, the sauce on the plate should look like half port and half olive oil. Garish with a little chopped thyme and rosemary, but only just a little.
Tips & Tricks
Tenderloin tips make for a great appetizer or as a whole meal if you make multiple courses of appetizers.
Other cuts of meat will work for this tenderloin tip recipe. They won't be as tender, but this recipe would work with any cut of meat if you are looking to save a couple bucks. Try rib roast, sirloin, or strip loin.
This dish has a strong garlic flavor. If you don't really like garlic, use a shallot or a little onion in its place.
A non-Teflon or nonstick pan will yield you the best pan sauce.
For this recipe I used a ruby port, but a tawny port or even a sherry would have been good too.
Leaving the tomatoes out will not affect the finished product much. They are mostly there because they look good. And they taste good too.
Make sure to use a good extra virgin olive oil for this recipe. A cheap olive oil will completely destroy this recipe.
Lastly, make sure to have plenty of fresh crusty bread like baguette on hand for mopping up juices and to eat the beef tips on.