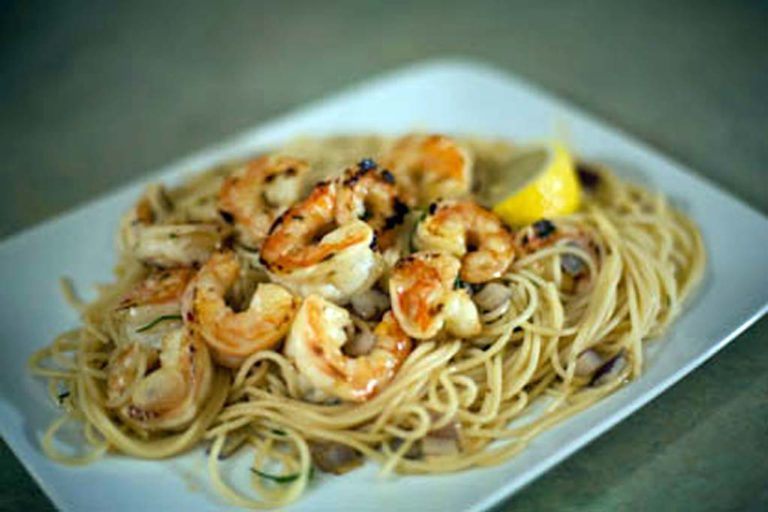 Chef's notes:
The best shrimp to pan fry are peeled, deveined, and raw shrimp. Leaving the tail on or removing it is personal preference. Sometimes, factory peeled shrimp are gross looking . . . actually, make that most of the time. To that end, I buy whole, raw shrimp, and do the peel and devein myself. It's a quick and easy process, with the added bonus of knowing that my shrimp is clean and safe. Once that is done, you can fry them up in a couple minutes, and serve them in a sauce or with some pasta, as I have here.
Ingredients
½ pound shrimp
2 Tbsp butter
1 clove minced garlic
2 Tbsp minced red onion
½ tsp minced rosemary
1 Tbsp butter
¼ pound cooked spaghetti
2 Tbsp lemon juice
1 Tbsp chili sauce (optional)
Fresh Peeled and Deveined Shrimp Pan-Fried in Butter with Buttered Lemon Noodles
Buy some shrimp. As I mentioned above, I prefer raw and whole shrimp that I peel and devein myself. It is beyond me how the shrimp industry peels and deveins shrimp en masse, and perhaps that's for the best. The shrimp I'm using here were wild caught, Texas brown shrimp. It is always best to buy shrimp that has not been imported, for both freshness and health safety.
Get the shrimp ready to be pan fried. This involves inserting a skinny, sharp knife into the neck of the shrimp, and cutting the length of the back all the way to the tail. Cut a little bit of the way into the meat just under the shell. Pull out the little, dark poop-vein. If it breaks open, just give the shrimp a little rinse. Lastly, pull off the shell, legs, and tail. If you like to make homemade seafood stock, save the shells.
Pan fry the shrimp in butter. Heat up a non-stick frying pan over medium high heat with 2 Tbsp of butter. Once the butter has melted and the foam has subsided, lay the shrimp in the pan in a single layer. Pan fry the shrimp for a minute or two, and then check the side facing the pan to see how they look. Once they get kind of dark and crispy looking, it's time to flip them over.
Pan fry the other side. The second side should take approximately the same amount of time to pan fry. If you plan on making a sauce with these shrimp, now is the time to do it. First, I added the garlic, red onion, and rosemary to the pan. After a couple of seconds, I tossed in the butter and gave it a stir. Drop in a handful of cooked spaghetti, as well as the lemon juice and chili sauce. Toss to combine, plate, and eat!
Tips & Tricks
Buy fresh, whole, raw shrimp that smell good. Chances are good that the raw shrimp were frozen before anyway, so buying frozen is fine.
Ask the butcher if you can smell the shrimp before you buy them. If they smell off, pass on them.
Buy shrimp that were caught in U.S. waters. With the exception of Canadian spot prawns, imported shrimp, like black tiger shrimp, are evil.
Shrimp can overcook quickly. These shrimp were fully cooked after 4–5 minutes.
Serve shrimp immediately. They do not require time to rest.