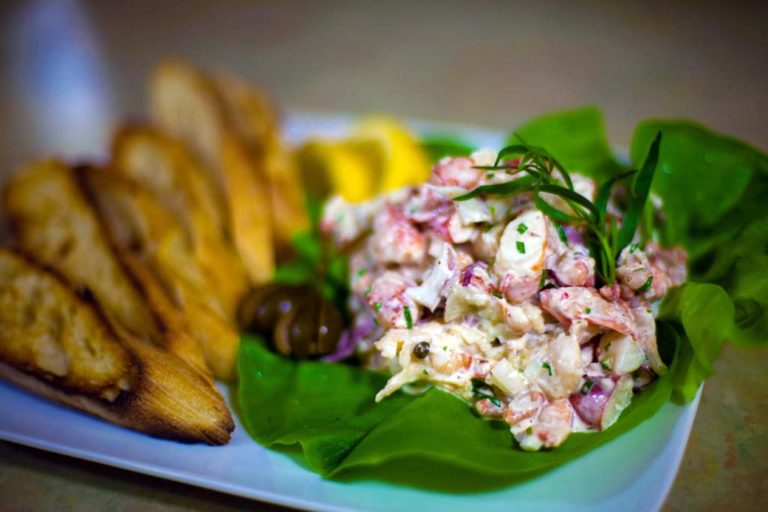 Chef's notes:
Lobster salad is kind of like any other kind of salad, except better. The lobster meat's natural exotic flavors are supported and enhanced by adding some sweet tarragon, tangy capers, and sharp shallot flavors. All these flavors are unified in a sauce of mayonnaise, lemon juice, and mustard. The sauce comes off like a vinaigrette, the mayo being the oil and lemon juice being the vinegar. The mustard is there to provide a bit of boldness and complexity. This recipe is a simple mixture of simple flavors that combine to make a complex salad, but the predominate flavor will still be that of lobster. Would you want it any other way?
Ingredients
1½ pounds cooked lobster meat
1 shallot, minced
½ lemon, juiced
1 Tbsp tarragon, minced
¾ cup mayonnaise
1 Tbsp whole grain mustard
1 Tbsp capers
Bibb/butter lettuce for garnishing
Salt to taste
Lobster Salad Recipe made with Poached Lobster Meat, Shallot, Mayo, Capers, Lemon Juice, Tarragon, and Mustard
Cook the lobster meat. Boil the lobster meat in the shell using the advice in the related article Boiled Lobster. Or, if you would prefer to poach it out of the shell, remove the lobster meat from the shells. Heat up 4 cups of salted water in a sauce pan to a low boil. Lay the meat in the pan and simmer for 2 minutes. Remove everything but the tails. Simmer the tails 2 more minutes. Remove and cool.
Get the other ingredients for lobster salad together. The ingredients for this recipe are listed to the right. There are also some other ideas for potential ingredients listed below under "more flavors." Be careful that you don't add too many flavors to this salad, as you don't want to muddle the flavors too much.
Prep the ingredients for lobster salad. Make sure to mince the shallot and tarragon well so that they distribute into the salad evenly. You may wish to also mince the capers, or add more if you like them a lot. Cut the lobster into bite-size pieces after it's cooled.
Mix them together to make lobster salad. Mix the mayo, lemon juice, and mustard together separately. Add the other ingredients and combine with the lobster meat. Mix everything together carefully; try not to break the lobster meat up too much. Once combined, cover and refrigerate 30 minutes to an hour to chill. Serve on lettuce with baguette toasts or crackers, or on a roll.
Tips & Tricks
It is always best to buy live lobster and cook it yourself. But you may wish to have someone else kill and cook your lobster for you. Several places that sell live lobster offer this service to their customers. I prefer to do it myself, but it's not for everyone.
Frozen lobster tails are also an economical way to get lobster meat, but you won't get any of the delicious claw meat. The claw meat is perhaps the best part of the lobster.
Some simple substitutions that you can make in this recipe include switching tarragon for basil, parsley, or thyme. You could also switch out mustard for tomato paste and lemon for lime. The possibilities are limitless.
The capers could also be used as garnishment on top of the salad. Or you could use a caper berry instead.
Eat lobster salad within 4 days to avoid spoilage.