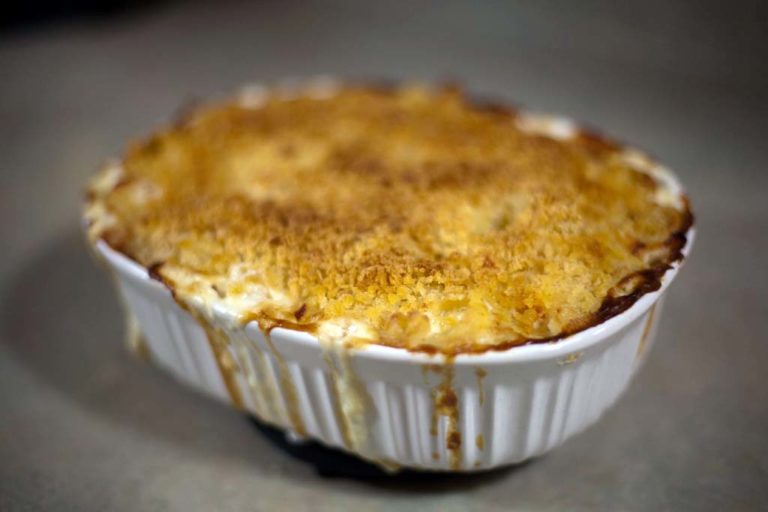 Chef's notes:
Lobster mac and cheese has become extremely popular over the past few years. I remember the first time I had it, about three years ago. It was at a very fancy-pants restaurant—one of my favorites—and I remember being skeptical at first. My initial reaction was shortly thereafter bashed into tiny little bits. That first bite induced many more bites. Each time I saw it on the menu—there and anywhere else—I had to have it. And so I did. And now I have made my own version of this amazing dish. I know for a fact that it is incredibly similar to at least one of the versions I've had. But, and my roommate will attest to this, I believe mine is better.
Ingredients
10 oz campanelle pasta
1 pound fresh lobster meat, partially cooked
3 cups heavy cream
3 tsp sea salt
8 oz mascarpone cheese
8 oz Grana Padano, shredded
3 oz Havarti, shredded
4 oz aged cheddar, shredded
2–3 Tbsp panko bread crumbs
Lobster Mac and Cheese Recipe made with Mascarpone, Grana Padano, Cheddar with a Panko Havarti Crust
Get the ingredients for lobster mac and cheese. The recipe for my lobster mac is located up to the right. You may have a little trouble finding Grana Padano. In that case, just use Parmesan. It's very similar. Shred the Havarti, cheddar, and Parmesan or Grana Padano. You will use half the Parm/Padano in the cheese sauce and the other half will be mixed with the cheddar for the top of the casserole.
Make the cheese sauce. Put the heavy cream in a saucepan or double boiler and turn the heat to low (or medium-high for a double boiler). Stir the cream with a whisk as you add the eight ounces of mascarpone cheese. Once that is warm and the cheese is melted, add four ounces of Parm/Padano and the Havarti and heat until melted and mixed in. Mix in the salt and set the sauce to the side for later.
Cook the pasta. I really like this type of pasta because it has lots of empty space for the sauce to stick. The most important thing to remember when cooking pasta for a baked dish is to cook it less than al dente. That is to say, not as cooked as al dente. This means that the pasta is only about two-thirds cooked. It finishes cooking in the oven.
Cook the lobster. Depending on what kind of lobster you got, you can cook it naked or in the shell. Some people find it easier to shell the raw lobster and cook it in a frying pan as I have here. Others prefer to steam it in the shell and remove it after it's cooled a bit. Either way, make sure you only cook the lobster about halfway.
Prep all the other ingredients for lobster mac and cheese. Put the lobster and pasta in the baking dish in layers so that you get an even distribution of lobster throughout. If you have too much lobster or pasta for one dish divide it into two casseroles.
Pour the cheese sauce over the lobster and mac. Once it gets near full, shake the casserole a little to get some of the air pockets out. Don't stir it, as you will ruin the distribution of lobster meat. You may have some leftover sauce.
Top with the grated cheese and bread crumbs. Spread the remaining shredded Parm/Padano cheese and the four ounces of shredded aged cheddar evenly over the lobster mac. You don't have to use it all. Then top it with enough panko bread crumbs to cover it.
Bake the lobster mac and cheese. Preheat the oven to 350 degrees F. Place the casserole of lobster mac on a baking sheet (the baking sheet will catch any drips). Bake it for about 30 minutes until the top is golden brown and bubbly. Let it sit for about 15 minutes before you dig in. Enjoy.
Tips & Tricks
Don't forget to salt the water for boiling the pasta.
After the pasta is cooked, just drain it and set aside. Don't cool it, rinse it, or oil it. It will be fine.
As I stated above, if you can't find Grana Padano, then substitute Parmesan. It can be a difficult cheese to find. I found mine at an Italian grocery. It is very similar to Parm, so no worries there.
There are many types of pasta that will work for this dish. Anything that will capture a lot of sauce will work well.
I used an aged white cheddar. You could use any aged cheddar, white or yellow.
Make sure you only cook the lobster about halfway. It will finish cooking in the oven.
If you have leftover lobster mac fixings, make another dish of it.