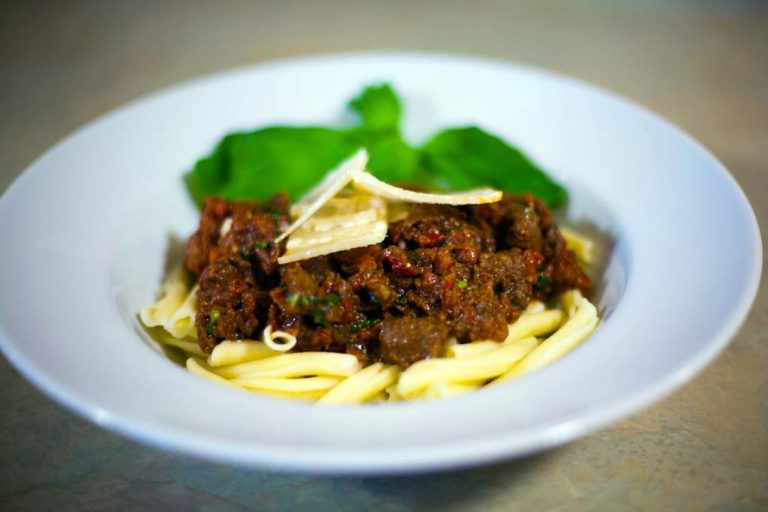 Chef's notes:
This pasta sauce recipe is a sort of hybrid of two of my favorite sauces: ragù and bolognese. It has some of the qualities of each but it is distinctly unique. It started out as a sort of sauce of necessity, as many recipes do. This basically means that I had an assortment of "ingredients," a strange eclectic collection of odds and ends, and I wanted to make something to eat. So I looked at the pile of stuff and just cooked something. "Just cooking something" is a skill that I developed after years of scrambling to cook food for picky and special diet diners.
Ingredients
1 pound Italian sausage (spicy, savory, or sweet)
1 Tbsp olive oil
2 tsp ground fennel seed
1 tsp thyme
1 tsp oregano
½ tsp sea salt
½ tsp pepper (white or black)
1 onion, minced
1 carrot, minced
2 cloves garlic, minced
2 roasted red peppers, minced
2 cups chopped tomatoes
½ cup red wine
3 Tbsp tomato paste
¼ cup fresh basil, chiffonade
1/2 # casarecce pasta, cooked al dente
Parmigiano Reggiano cheese
Pasta Sauce Recipe Made with Italian Sausage, Roasted Red Peppers, Fennel, Basil, Tomato, and Thyme
Get together the ingredients for the pasta sauce. I chose spicy Italian sausage because I like spicy food. Plus, it's not even that spicy. Fennel is one of the key ingredients that makes this dish taste Italian. If you toast the fennel seed before you grind it, you will get a lot more flavor. For the red wine, use anything dry that tastes good.
Remove the casings and fry the Italian sausage. This is a preference for me and my pasta sauces. But you could coin the sausage and fry them that way. That is totally up to you. Fry the meat in a bit of olive oil until browned and broken up. Then add your herbs (except the basil), salt, and pepper to the meat and fry for an additional minute or two.
Add the vegetables to the fried Italian sausage. Toss in the carrot, onion, and garlic, and fry them until soft and brown. Alternatively, you could fry them separately until brown. This is called soffritto in Italian cooking. For it to be exactly that, though, you should add celery, and actually that would be pretty good.
Add the tomatoes, peppers, and wine to the sausage and vegetables. Stir everything together really well and begin cooking it over medium heat. Cover it for the first 10 minutes of cooking, stirring every few minutes. Then cook the sauce down to a good consistency.
Add the basil chiffonade to the pasta sauce at the last minute. But first taste the sauce and adjust the seasoning; add salt or sugar if you like. At this point, begin cooking your pasta, you want it to be as freshly cooked as possible. Just before you serve the sauce, fold in the basil threads. Spoon it over the al dente pasta and top with Parmigiano Reggiano cheese.
Tips & Tricks
I find that spicy Italian sausage isn't all that spicy. But sweet Italian sausage is really sweet. Perhaps a blend of half and half?
Removing the casings will give the sausage sauce a better consistency. Also, break up the meat before you fry it to save yourself a load of pan-chopping time.
This dish is probably going to be easiest to make if you use a high-sided nonstick skillet as I have here.
Ricotta cheese is also nice with this dish when served on top or stirred in with the pasta.
Save a couple basil leaves for garnishing.