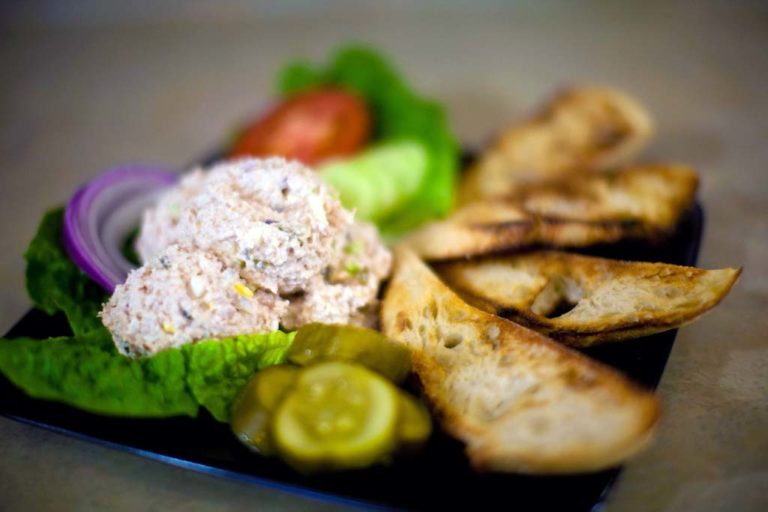 Chef's notes:
According to the old masters of American recipes, there is a difference between ham salad and ham spread. In the salad version, the ham is cut into cubes, and in the spread version, the ham is ground or minced. While either one would be fine, I prefer the spread version. But the following recipe could easily be converted to a salad. Just cube the ham instead of grinding it. As you may have guessed, ham salad spread is an old favorite of mine. In my opinion it makes some of the best sandwiches, open-faced or closed. I also like to eat it on a platter of veggies and baguette toast like the photo above.
Ingredients
1 pound cooked ham, chopped or ground
2 hard-boiled eggs, chopped
½ celery stalk, minced
2 Tbsp red onion, minced
2 Tbsp sweet pickles, minced
¾ cup mayonnaise
2 Tbsp mustard
Ham Salad Recipe made with Ground Ham, Mayo, Celery, Red Onion, Mustard, Hard-Boiled Eggs, and Sweet Pickle
Pick up a cooked ham and grind it up. Most hams are precooked, but make sure it is labeled so. Then cut off the outer skin and cut the ham into cubes. Then use your food processor to chop it into little bits. It may also be possible to find fully cooked ham that is already ground, which would make this whole process even easier.
Get the other ingredients together. This recipe for ham salad is as simple and basic as they come. In a list to the right there are a couple things you can do to jazz it up if you want. But you can add them later after you mix up this recipe and taste it.
Put them in to a bowl and mix it up. Add all but about half of the mayonnaise to the bowl. Then mix it up and add more mayonnaise if needed. Use a rubber spatula so that you can get all the little bits stuck to the bottom.
Taste the ham salad and adjust the seasonings. After you have everything mixed together give the ham salad a taste and adjust the seasonings. Maybe it needs a little sweetener or maybe a little pepper. I think horseradish would actually be pretty tasty too.
Tips & Tricks
Buy a ham that is cooked and ready to eat.
If you don't feel like grinding or chopping your ham into little bits, you can cut it into cubes and make the ham salad with that. It would work just fine. Then you could toss in some cheese cubes and make it even better.
Use a nice whole grain mustard for this recipe. Yellow mustard has no place in this recipe.
I used chopped sweet pickles in place of sweet pickle relish. The sweet pickles make up the bulk of the sweet relish anyway. Plus this way I could use really good pickles that I love.
Of course, if you prefer savory flavors, you can substitute dill pickles for the sweet pickles. You may also want to substitute white onion for the red onion.
Ham salad should be stored in a sealed plastic container in the refrigerator. It will keep for up to six days.
Serve it with lots of vegetables, toasted baguette, crackers, or whatever else you can think of.