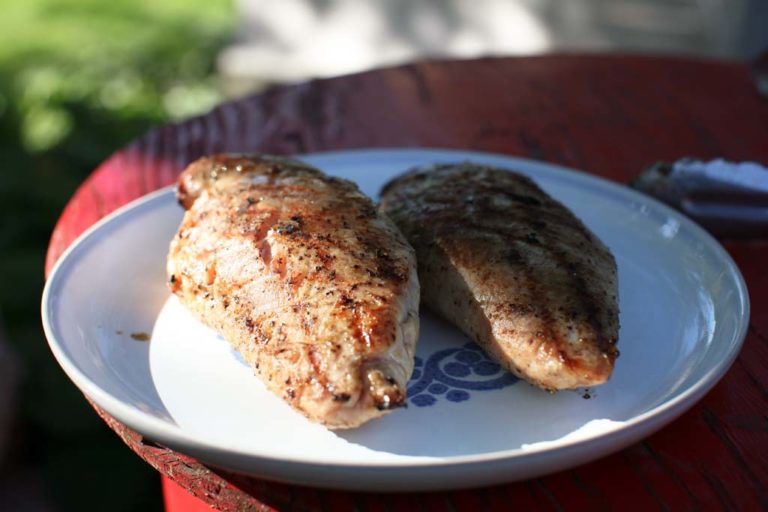 Chef's notes:
I brined these turkey breasts the night before, so they were extra tasty and tender. Brining, as you should know, increases the moisture and flavor of the meat. It only takes about 6‒8 hours to brine turkey breasts. You can brine them for longer. In fact, I brined these ones for 12 hours, at which point it is no longer necessary to salt the turkey breasts before you grill them. I am using boneless, skinless turkey breasts for this article. You can use bone-in or skin-on for this recipe; they'll just take a little longer to cook.
Ingredients
2 turkey breasts
Sea salt
Black pepper
Vegetable oil
Grilled Brined Boneless and Skinless Turkey Breast
Use a paper towel to pat the turkey breasts dry. You want the turkey breasts dry so the spices and oil will stick to them better. This will also help them to cook more evenly and help to brown the outside of them on the grill. Make sure you use an unused paper towel to dry the breasts and that you throw it away after you finish drying the turkey breast.
Season the turkey breasts with salt and pepper. If you brined the turkey breasts, you will most likely not need to salt the outside of your turkey breasts. You can season them in other ways, if you want; some ideas are to the right. I seasoned these with fresh-cracked black pepper and a little vegetable oil.
Heat up the grill for 5‒10 minutes before putting the turkey breasts on. Turn the grill to the max temp and close the lid on it. Let it heat up for 5‒10 minutes. Then use your grill brush to scrape the grate and make sure it's clean. Lay the breasts over the grill in the manner shown in the picture. After a few minutes, check to see if grill marks have formed. If they have, rotate the breasts about 30 degrees and continue grilling. Lid down.
Grill the other side of the turkey breasts. Time is not the greatest indicator of doneness. I generally grill the first side of the turkey breast until it looks perfect. Then I insert a thermometer and grill the second side until it reaches the desired internal temperature. That way I get one side that looks perfect and the meat gets cooked exactly to the right temperature, which, by the way, is around 160 degrees F for poultry.
Tips & Tricks
As I said before, the best way to cook meat is to monitor the internal temperature as it cooks. And we do that by using an instant-read digital thermometer with a detachable probe, one that can withstand exposure to high temperatures.
Turkey breasts have a tendency to dry out, which is why so many people are brining them now. If you want to learn more about brine, read my brining information at How to Brine Meat
Grills are always better at grilling when they are clean.
If you need advice on what tools to use for grilling, read my section on grilling: How to Grill Meat. You may be surprised to find that the best grill, in my opinion, is still the Classic Weber kettle grill. Charcoal is king!