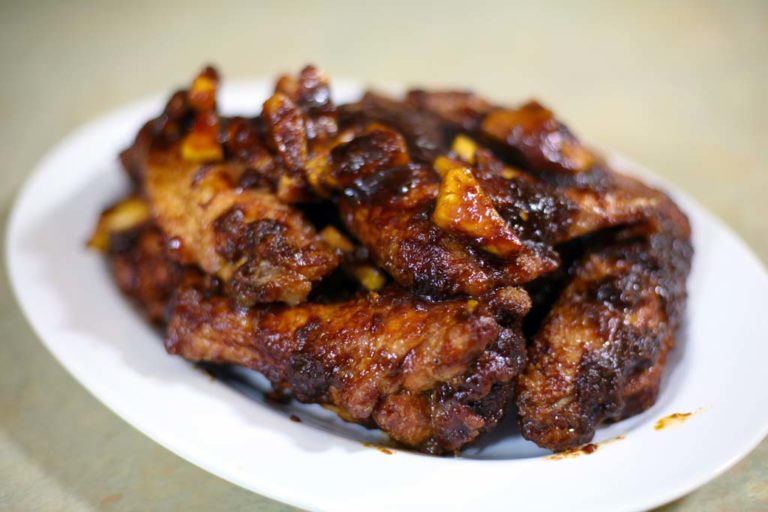 Chef's notes:
The fact that these wings are bigger than traditional hot wings should make you a hero among your friends. Turkey wings are big and delicious. To make them into hot wings or buffalo wings, you need only cook them and cover them in some sauce. Cut the wings into sections or keep them whole; sections are easier to manage, but whole wings may look nicer. In this recipe I make my own barbecue sauce, using a pineapple and a few condiments. If you prefer to use another recipe, or you have a favorite store-bought sauce, go for it.
Ingredients
4 turkey wings, cut into sections
½ tsp ground clove
½ tsp ground allspice
1 tsp salt
1 Tbsp cornstarch
1 tsp pepper
2 eggs
Fried Turkey Wings Spiced and Deep Fried. Served with a Pineapple Barbecue Sauce
Pick up the turkey wings. If you're lucky, you may find turkey wings fresh from your butcher's counter. Otherwise, you should be able to find them in the frozen poultry section. The spices that I chose to season my wings with are complementary to my BBQ sauce. If you are using another type of BBQ sauce, you may want to switch them a bit: garlic salt, cayenne, paprika, cumin, or seasoning salt are good options.
Mix the wings with the egg and spices. Mix the egg, cornstarch and spices together and coat the wings on all sides with the mixture. Meanwhile, be heating up a deep fryer or heavy-bottomed pot with about 3 inches of oil in the bottom. Heat the oil—peanut or frying shortening—to 350 degrees F. Use a candy/oil thermometer to monitor the temperature of the oil.
Fry the turkey wings. Once you've got the oil temperature holding at 350, add a battered turkey wing slowly to the oil. Be careful and try not to burn yourself. Try to keep the temperature of the oil stable at 350, but don't do anything too drastic, like crank up the heat to rebound the temperature loss. If the oil begins to boil over, try to turn off the heat. But don't try moving the pot; you'll likely burn yourself. After 6–8 minutes, the wing should be cooked. But use a digital thermometer to make sure it's at 160 degrees F.
Make the barbecue sauce. If you decide to make your own BBQ sauce, you are going to want to start a bit earlier in the day to make sure that it's cooked in time—like 4 hours before. Basically, all you have to do is put everything except the vinegar into a pot and simmer with the lid on until things begin to break down. Then puree the mixture using a blender and continue to cook down until the sauce is thickening. Then add the balsamic vinegar and adjust the flavor. Cook until thick again over low heat,
Sauce the fried wings. Add the sauce and some chopped pineapple to the freshly fried wings. Stir, or, if you can manage it, toss to coat the wings evenly. Serve more sauce on the side or just pour it on the top like I did. Serve the wings with lots of wet-naps and napkins, as this is a messy appetizer.
Tips & Tricks
If you can't find turkey wings, naturally a chicken wing will also work for this recipe. You just won't have to cook them as long.
If you'd prefer not to fry the wings, you can bake, broil or grill them instead. In fact, grilling would be quite delicious.
Making a decent BBQ sauce can take all day. A slow cooker might prove to be the easiest way to do that.
Also, get yourself a stick blender. That way you can puree your sauce right in the pot.
Pineapple BBQ Sauce
1 pineapple, peeled and medium dice, reserve a few for garnish
½ onion, diced
4 cloves garlic, minced
1 cup tomato
1 cup red chiles
¼ cup brown sugar
1 cup white wine
1 cup balsamic vinegar
2 Tbsp molasses
2 Tbsp soy sauce
1 Tbsp Worcestershire sauce