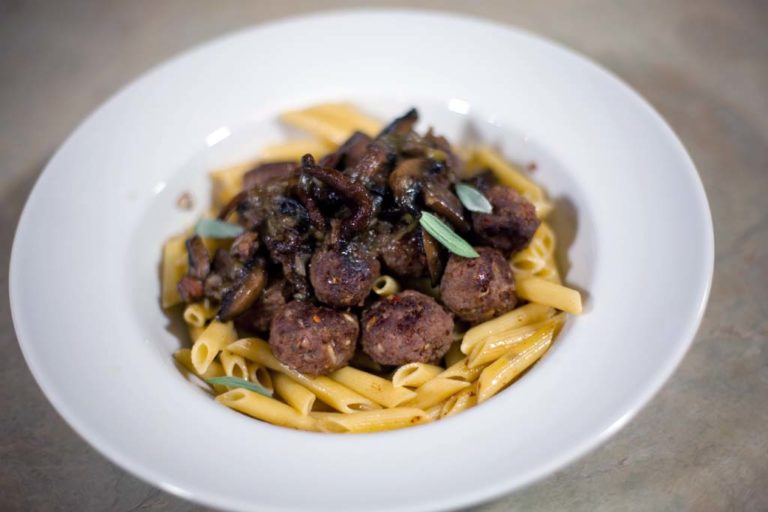 Chef's notes:
You can make duck meatballs from fresh ground duck or even ground cooked duck. Fresh ground duck is easier. If you were to use cooked duck, you would need some sort of binder like eggs. But a meatball made from duck confit probably tastes pretty dang good, so it might be worth a try sometime. For this recipe, I am using fresh ground duck and a good deal of fresh sage for flavor. It is a surprisingly pleasant combination. The little bit of sesame oil also adds a nice bit of flavor to the meatballs. All in all, this recipe was an epic win.
Ingredients
1 pound ground duck
¼ cup shallot, minced
1 clove garlic, minced
1 clove garlic, minced
1 Tbsp sage, minced
1 tsp sesame oil
1 tsp white pepper
1 tsp red pepper
2 tsp salt
Duck Meatballs Flavored with Sage and Sesame Oil, with a Mushroom Ragout and Penne Pasta
Assemble the ingredients needed for duck meatballs. Finding ground duck may be difficult. Good places to check include the freezer section at co-ops and butcher shops. Also, some high-end grocery stores may have it in stock. Or, at the very least, they will be able to provide you with duck that you can grind yourself, or perhaps they could grind it for you.
Mix all the ingredients together to make the meatballs. Mix everything together in a bowl, making sure that you've minced everything small. Mix it just until the point when everything comes together. The meat will have a slight sheen to it from the duck fat and sesame oil, and the ingredients should be relatively evenly distributed.
Measure the mixture and roll them into balls. Use a digital scale or an ice-cream scooper to portion the meat into even sized balls. Make your meatballs whatever size you want, just remember that if the meatballs get too big, you may want to bake them in the oven in order to cook them all the way through.
Fry the meatballs in a little bit of butter. Use a nonstick pan and melt a tablespoon of butter in the bottom. Fry the meatballs until brown on all sides. Flip and rotate them as they cook trying to get as much of the meatball brown as you can. Try not to overcrowd the pan with too many meatballs. As the meatballs finish cooking set them aside.
Make the mushroom ragout. Start by adding the boiling water to the dried mushrooms to get them re-hydrated for the sauce. Then fry the minced bacon in a frying pan until crispy. Add the butter, onions, leeks, and mushrooms, and fry until cooked down. Then mince the dried mushrooms and add them along with the liquid. Cook for a few more minutes until dark and saucy-like. Stir in the sage and add salt and pepper to taste.
Cook the pasta. Boil the pasta until cooked al dente and drain. As an added boost to flavor, you could fry the pasta in the pan that you used to fry the meatballs. That pan is now full of flavorful duck fat, and you don't really want to waste that. Plus, pasta is really good when it's been fried a little bit. Serve the meatballs on top of the pasta and under the mushroom ragout. Garnish with a few baby sage leaves.
Tips & Tricks
Mince all the ingredients as small as you can to distribute the flavor evenly.
Don't over-mix the meatballs. Just mix until it comes together, and then stop.
If you don't feel like frying the meatballs, you could bake them in the oven for 10–15 minutes at 350 degrees F.
Cook the mushroom ragout until the mushrooms are browned and have given up all of their liquid.
If the ragout isn't saucy enough, add some beef stock.
mushroom ragout recipe
10 oz fresh mushroom, sliced
2 oz dried mushroom
2 cups boiling water (to re-hydrate the dried mushrooms)
1 strip bacon, minced
1 leek, washed and mince
½ onion, minced
4 Tbsp butter
1 tsp sage, minced
1 tsp salt
White pepper