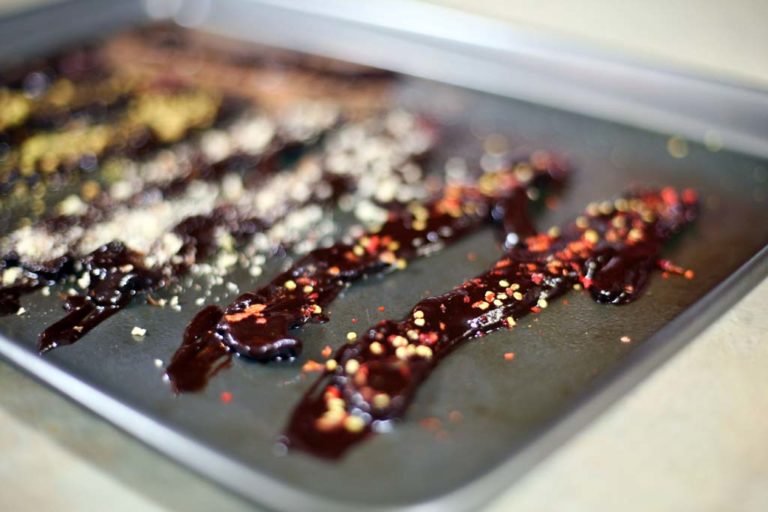 Chef's notes:
The origin of chocolate-covered bacon is not exactly known. I theorize that it was created by someone in need of a snack. And that, in all likelihood, they were under the "influence" at the time, as the notion of covering a strip of bacon with chocolate seems an impossible combo. And perhaps for some of you it will remain so. But actually, combining chocolate and meat isn't that uncommon. My friend Amber reminded me of the classic chocolaty meat sauce called mole. Mole is delicious stuff and goes very well with meat of all kinds. So set aside your judgements for a moment, and try chocolate-covered bacon. The chili pepper flake-dusted ones were my favorite.
Ingredients
8 strips bacon
1 cup semi-sweet chocolate chips
1 Tbsp water
topping choices
crushed red pepper
chopped almond
chopped pistachio
cocoa powder
Smoked Bacon Baked and Dipped in Chocolate and Covered with Almond, Pistachio, Cocoa Powder or Pepper Flakes
Chose your bacon and chocolate. I chose an unflavored, lightly smoked, regular-thickness bacon. I didn't want extra flavors like hickory, maple, or honey to get in the way. Just common smoky bacon and some regular old semi-sweet chocolate chips will be perfect. Any extra flavors can be added by sprinkling toppings on the chocolate-dipped bacon. For that, some chopped nuts, cocoa powder, or chili flakes will be good.
Cook the bacon. The best way to cook the bacon for this recipe will be to bake it on a cookie sheet. Lay the pieces flat on a non-stick cookie sheet and bake them at 350 for 8–9 minutes until crispy. Dump some of the grease off the pan about halfway through the cooking time to speed up crisping. Once it's baked, lay the bacon on paper towels and start melting the chocolate.
Melt the chocolate. You can use a double boiler or a sauce pan if you're careful. But that may be making it more complicated than necessary. You can also combine the chocolate chips and 1–2 Tbsp of water in a microwave-safe bowl and zap it in the nuker for a minute to melt the chocolate. Whisk to smooth out and zap for a few more seconds if needed.
Coat the bacon in chocolate. Lay out another cookie sheet and spray it with oil or lay some wax paper on it. You will put the dipped bacon onto this pan, and this will keep it from sticking. Dip the bacon into the chocolate, using a spoon if needed to coat all sides of the bacon. Lay the strips on the cookie sheet and sprinkle on your toppings. Then put the pan in the fridge to cool and set the chocolate.
Tips & Tricks
Try different thicknesses of bacon for variations. Also try using different types of chocolate for even more diverse recipes.
If you are gonna melt the chocolate on the stove, be careful not to burn it. Stir it often with a whisk.
When dusting the bacon with crushed pepper flakes, don't use your fingers. The oils will transfer and get on everything you touch.
If you haven't baked bacon before, follow my tips in the article linked to the right, under "techniques."