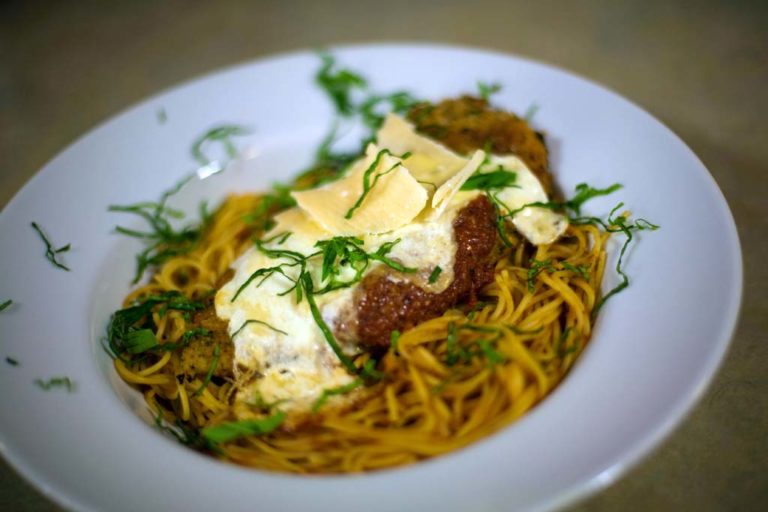 Chef's notes:
Chicken parmigiana is a variation of a classic dish from Sicily: Parmigiana di melanzane, a.k.a. eggplant parmigiana. The name of this dish implies that it comes from the Parma region of Italy but it does not. It comes from Southern Italy, most likely Sicily. In Sicily there is an old dialectal word "parmiciana," which are thin slats of wood that overlap to form a shutter, much like the eggplant in the ancient dish. It is also possible that the name comes from the cheese, Parmigiano Reggiano, which almost always tops this dish. Either way, it is one tasty dish!
Ingredients
3 large chicken breasts
½ cup all-purpose flour
1 tsp pepper
2 tsp sea salt
2 large eggs, beaten with 2 Tbsp water
2 cup bread crumbs
1 tsp pepper
2 tsp sea salt
Pinch each of minced basil, thyme, and parsley
1 ball fresh mozzarella, sliced
1‒2 oz Parmigiano Reggiano cheese, freshly sliced, grated, or shredded
Chicken Parmigiana Recipe: Chicken Breast, Topped with Marinara, Mozzarella, and Parmigiano Reggiano
The getting together of ingredients. There is room for a few substitutions if you wish. You could use a canned tomato sauce instead of fresh homemade marinara. You could use shredded mozzarella from a bag instead of the real mozzarella in a ball. I wouldn't do either of those things, but that's my preference. One area you just don't mess around with though, is the Parmigiano Reggiano. Use the good stuff for that one, baby!
First things first, make the marinara sauce. I happen to really enjoy making tomato sauces. It is a point of pride for me. My favorite is marinara, its a great way to spend an afternoon. Especially if you have a bottle of wine on hand. Fry the onion, garlic, and carrot in the olive oil until brown and soft. Add the rest of the ingredients, but just a pinch of salt and pepper for now, and cook the sauce down until thick and dark red. Then either pass the sauce through a fine-meshed food mill or puree it.
Slice and/or pound the chicken breasts thin. The chicken breasts that I got for this recipe were quite large, so I sliced them in half the long way. Then I pounded them with my meat hammer. Use a bit of plastic wrap to cover the chicken while you pound the breasts. This will keep chicken bits from flying around your kitchen. When pounding meat, start with medium strikes and try to stay consistent. You're not pounding a nail, so don't get all wild. Start on the thick end and work your way to between ¼ inch and ½ inch.
Bread the pounded chicken fillets. To make the flour dredge, mix ½ cup all-purpose flour with one teaspoon black pepper and two teaspoons sea salt. Then beat two eggs with two tablespoons of water. And for the breading, mix two cups of bread crumbs with one teaspoon pepper and two teaspoons sea salt. For the bread crumbs, I used an equal mixture of regular bread crumbs and panko bread crumbs. First, dredge the fillet in the flour and shake off the excess. Then dip it in the egg mixture and let the excess drip off. Then finally coat it in the herbed bread crumbs. Use the palm of your hand to push the meat into the crumbs. This will help to get the bread crumbs to stick.
Heat up four tablespoons of olive oil in a non-stick pan. Once the oil is hot, lay the breaded chicken fillets in gently. Fry for a few minutes until they are crispy and golden brown. We are not terribly worried about cooking them all the way since we will be baking them as well. Lay the fried chicken fillets on paper towels to drain a few seconds before moving them to the baking dish.
Bake the chicken parmigiana to melt the cheese. With the last step you have a couple of options. The first is to do as I have here: lay each fillet out and top with a ladle of marinara, slice of mozzarella, and some Parmigiano Reggiano. Or, you could lay them overlapping a little but in a shallow baking dish, and ladle in lots of marinara and top with loads of cheese. Both are great; the latter is more of a casserole. So it just depends on what you like. Oh, and since it's a Sicilian dish; you better have some pasta.
Tips & Tricks
I bet you're thinking that you could just pound those thick chicken breasts all the way down and avoid cutting them in half. But trying to pound a one-inch thick breast down to ¼- to ½-inch thickness is really silly. Just cut them in half or get smaller breasts; then you won't have to cut them in half.
This chicken parmigiana recipe can also be used to make veal parmigiana and/or eggplant parmigiana. Both are excellent.
I recommend using a good, fresh mozzarella, in a ball, for this recipe. Don't buy that crappy pre-shredded stuff.
If you are too cheap to buy Parmigiano Reggiano, try and find Grana Padano. It is very similar to Parm and it is usually cheaper.
Marinara Sauce Recipe
2 Tbsp olive oil
⅓ cup sweet onion, minced
3 cloves garlic, minced
1 carrot, minced
1½ Tbsp basil
1 Tbsp parsley
2 tsp thyme
3½ cups crushed tomatoes
½ cup water
Sea salt
Black pepper