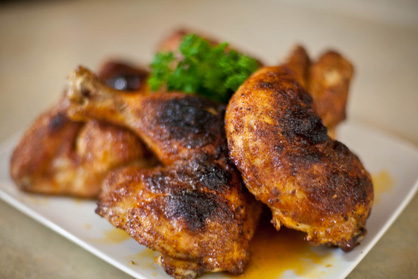 Chef's notes:
Broiling whole chicken, even cut up into smaller pieces, is not an easy task. At least, it may seem that way at first. Actually, once you get a feel for how hot your broiler is and how it works, you will discover that broiling large pieces of meat can be quite easy. The trick is to just keep them in the bottom of the oven. Not only that, but the meat comes out tasting quite similar to that of grilled meat. The outside is crispy and delicious, while the inside is remarkably juicy.
So, go ahead and give it a shot. I assure you, it is very easy to broil chicken.
Ingredients
1 whole chicken, cut up
2 tsp sea salt
1 tsp black pepper
1 tsp cumin
1 tsp paprika
1 tsp garlic powder
1/8 tsp cinnamon
1/16 tsp clove
1/8 tsp cayenne pepper
1 tsp sugar
Whole Chicken Cut-up and Broiled with a Cumin, Paprika, Cayenne and Garlic Spice Rub
Find the right chicken for this broiled chicken recipe. You can buy chicken just about any way you can imagine. The cheapest way would be to buy it whole, and then cut it up yourself. This is really pretty easy to do, plus you get a few scraps to make soup stock out of later. If that's not quite up your alley, you can buy a pre-cut chicken.
Season the chicken with a homemade spice rub. The rub I use is a pretty standard assortment of spices that I just tossed together one day. If you don't have one of the ingredients, leave it out or substitute something else in its place. Rub a pretty good amount onto the chicken. Then, do it again with more. There really is no wrong way to do this.
Broil the chicken on the bottom rack on low heat. Move your oven rack to the bottom position, and turn the broiler on low. Place the broiling pan in and close the door. Check in after a few minutes to get an idea of how hot the low setting will be. It should take 30–45 minutes before the chicken starts to brown.
Flip the broiling chicken every once in a while. Once the first side looks nice and brown, flip it over and broil the other side. Use a digital thermometer to check the internal temperature of the chicken. Continue broiling until it reaches 160–165 degrees F. Once that happens, let the chicken rest for about 10–15 minutes before you eat it.
Tips & Tricks
Chicken quarters will work very well for broiling. Even chicken drumsticks or thighs will do fine. As a point of fact, if the chicken's boneless, it will broil faster.
I rubbed the spice in, dumped more on, and let the chicken sit for about 15 minutes before I broiled it. You could actually let the chicken sit overnight in the fridge with the rub on it, if you want.
One of the reasons the chicken got so brown and amazing looking is that little bit of sugar in the rub.
The bottom of the pan should have a good deal of juices in it. Pour it over the top of the chicken before you serve.