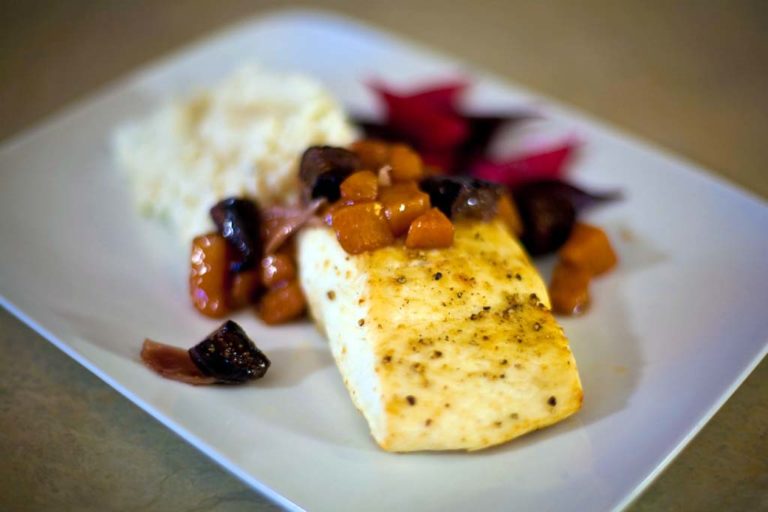 Chef's notes:
Halibut fillets and steaks are very often broiled or deep-fried. Halibut meat is quite dense and lean, which means that if it's overcooked, it will be hard and dry. So, how do you make sure that you don't overcook your broiled halibut? Experience broiling fish or other meat will help, but ultimately a digital thermometer is going to be the tool that saves your broiled halibut. As your halibut broils, check the internal temperature of the meat; once it reaches 150 degrees Fahrenheit, take the meat out of the oven and off of the pan. Make sure to let it rest for a few minutes before eating it. If it still turns out too dry, serve it with a nice sauce like the one I use here—persimmon and fig compote. This recipe is to the right.
Ingredients
6 oz halibut fillet
Sea salt
Black pepper
Olive oil
Halibut Fillets Seasoned with Sea Salt and Pepper Broiled and Served with a Fig and Persimmon Compote
Pick up some halibut. Wild halibut come in an array of sizes, anywhere from twenty to four hundred pounds. I believe the average is somewhere between twenty-four and thirty pounds, but, of course, the butcher will cut halibut fillets to order. This fillet here is from Alaska. There was some halibut at the grocery store from a halibut farm in Canada, but they were rather small.
Season the halibut to be broiled. Halibut has a very fresh, clean flavor, and as long as you don't overcook it, you won't need to season it too much: just salt, pepper and olive oil. Or, if you like more flavor, make a sauce to serve with the fish. I made a compote of persimmon and fig that was totally awesome. That recipe is just to the right.
Broil the halibut. Preheat the broiler on high for 5 minutes before putting the halibut under it. Move an oven rack to the second from the top spot, roughly six or seven inches below the element. Put the halibut skin-side down directly under the warmest part of the broiler. Let it broil for a couple of minutes before carefully flipping it over with a thin metal spatula.
Check the internal temperature of the broiled halibut. After a couple of minutes on each side check the internal temperature of the halibut using a digital thermometer. Keep broiling the halibut until it reaches 150 degrees Fahrenheit in the very center. Once it is at that temperature, remove the halibut from the broiler and broiling pan. Let it rest for 5 to 8 minutes before eating.
Tips & Tricks
Buy halibut that looks and smells fresh.
Also, only but halibut caught in the Pacific Ocean near Alaska and Canada. Don't buy halibut from the Atlantic Ocean. California halibut, a.k.a. Monterrey halibut, chicken halibut, and southern halibut, when caught by the use of a gill net, should be avoided. Gill nets, as you know, kill many marine animals.
Store raw fish wrapped up and on a plate or something similar to keep the juices from getting on other food.
Cook the raw fish within a day (or so) of purchase to avoid spoilage.
Don't worry about removing the skin; it will peel off easily once it's cooked.
Fig and Persimmon Compote Recipe
2 persimmons
6 dried figs
¼ cup water
1 Tbsp sugar
Dash ground clove
Dash ground cinnamon
A couple drops of vanilla
2 Tbsp butter
Cut the fruit into small cubes and simmer the first seven ingredients for 4 minutes or until the water is mostly gone, leaving a syrupy sauce. Turn off the heat and add two tablespoons of butter; stir to melt the butter and thicken the sauce.