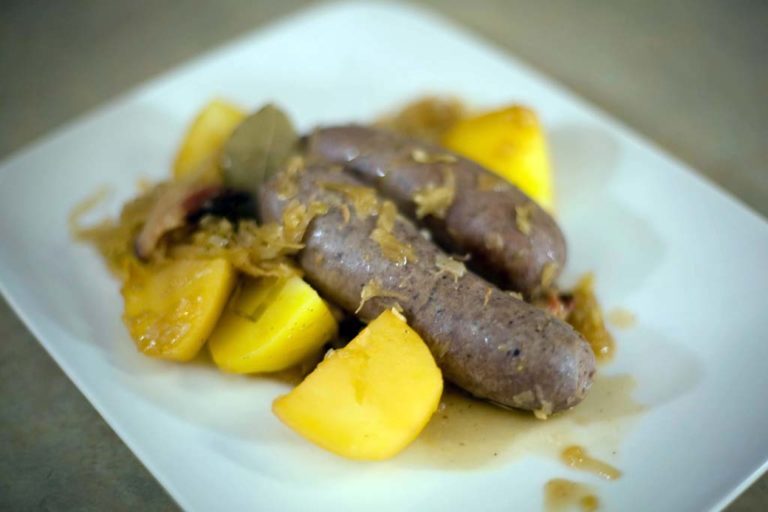 Chef's notes:
A deer brat is not something that you will come by easily in a grocery store. So with that in mind you may substitute another type of bratwurst for this recipe. But should you happen to get you hands on some venison, find yourself a reputable sausage maker and have them masauerke you some venison bratwurst. Venison is a very lean meat so sausage makers add pork when making bratwursts to keep them from drying out when they're cooked. But we must still be careful not to overcook the venison bratwurst. This recipe is nice because it cooks the venison bratwurst very gently and they come out perfect.
Ingredients
4 venison bratwurst
1 cup onion, chopped
2 strips bacon, chopped
2 cloves garlic, minced
2–4 cups sauerkraut
3–4 potatoes, quartered
1 cup beef stock, or other stock
Black pepper
10–15 juniper berries
2 bay leaves
Venison Bratwurst Braised in Stock with Onion, Bacon, Garlic, Sauerkraut, Potatoes, and Juniper Berries
Assemble the ingredients. Sauerkraut and bratwurst are a classic combination and go very well together. I tossed a few potatoes into the mix to make it a one-pot meal. I especially like using venison bratwurst for this recipe because the wild flavor of venison combines very well with the other flavors and it all comes together with the natural wild flavor of juniper.
Lightly fry the venison brats. Begin by heating up a braising pan or other skillet on medium-high heat. Fry the bacon, onion, and garlic first. Then add the venison bratwurst once the bacon is about to turn crispy. Pan fry the bratwurst briefly on all sides, browning a little. Be careful not to damage the bratwurst outer skin. Preheat the oven to 350 degrees F.
Add the sauerkraut and other ingredients. Turn off the heat on the braising pan and add the other ingredients. Put the potatoes on the bottom around the bratwurst and the sauerkraut on top. Then season with black pepper and toss in the juniper berries and bay leaves. Pour in the beef stock. Cover with a tight-fitting lid or aluminum foil.
Cover and cook in the oven. Once the oven is up to heat place the covered dish in the oven and cook for 45 minutes. The bratwurst and sauerkraut will braise each other adding flavor to everything in the pot. After 45 minutes remove the venison bratwurst from the oven and check the internal temperature. It should be 160 degrees Fahrenheit. Let them rest for about ten minutes before you eat them.
Tips & Tricks
Substitute another variety of bratwurst if you are unable to obtain venison bratwurst.
I was only able to obtain venison bratwurst by shooting a deer, butchering it, and paying a friend and professional sausage maker to make them for me. I'd give you his number but he's full up.
The bacon adds a nice smokey flavor plus some fat to fry things in. If you don't want to add it use butter to fry the onions, garlic, and brats.
Use more sauerkraut if you want. I only used two cups because that's all I had left of the homemade stuff. My parents made sauerkraut this year after taking a few years off. When I was a kid, we made sauerkraut every fall in giant stoneware crocks. If you haven't had homemade sauerkraut, you should try to get your hands on some. It's really good.
Remember not to overcook the venison bratwurst.
I think the juniper berries are one of the most important components of this dish, but watch out for them when eating your cooked dish. They pack a punch.