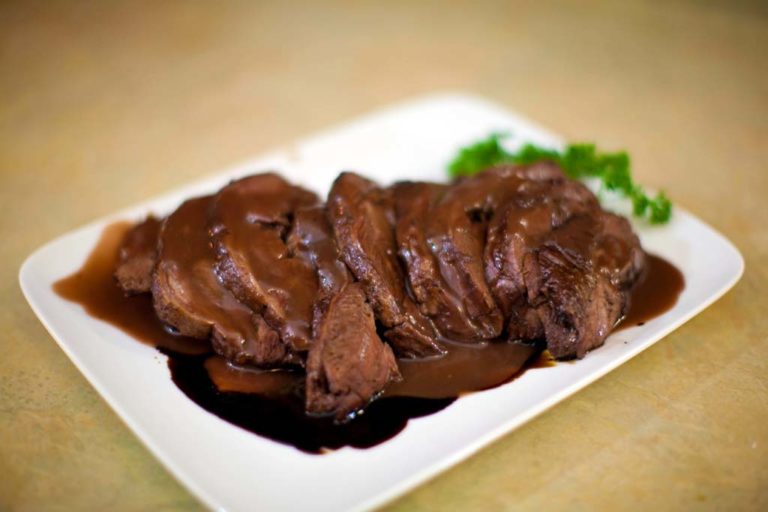 Chef's notes:
When considering what cut of lamb to braise, two cuts immediately come to mind: shank and shoulder. Lamb shanks are a real treat to braise, but for this article I really wanted to braise lamb shoulder. However, this recipe can also be used for lamb shanks just as easily as lamb shoulder. Lamb shoulder comes with or without the bone. A shoulder that is still on the bone can be quite large, so I recommend getting the boneless variety. The one I used for this demonstration came in a butcher's net, but I still unrolled, seasoned, and tied it up with butcher's twine. See the bottom of the page for a brief, photo-packed account of that procedure.
Ingredients
3 pounds boneless lamb shoulder
Sea salt
Black pepper
10 cloves garlic
3 shallots
5 sprigs thyme
2 sprigs sage
3 sprigs rosemary
2 bay leaves
1 bottle pinot grigio
2 cups pinot noir
4–6 cups warm water4 cups reduced braising liquid
1 cup reduced red wine
Salt
Cornstarch
Water
Braised Lamb Recipe: Boneless Lamb Shoulder, Tied and Braised in Red and White Wine with Fresh Herbs and Garlic
Lamb shoulder roasts are great for braised dishes. Since lamb breasts/briskets are a little small for braised meat dishes, the next logical cut of lamb to braise is the shoulder. There are a lot of bones in a lamb shoulder, and deboning it is a very time-consuming process. To simplify things, you can buy a boneless shoulder, as I have here. Prep the roast for braising by unrolling, seasoning, and tying it together. See the pictures and notes below.
Brown the lamb shoulder on the stove top. Use a large stockpot or braising pan that is deep enough to cover the meat over halfway with liquid. Place the lamb shoulder by itself into your chosen pan, and brown it on all sides. Try to get it a deep, dark brown all over, without burning it. It will take 10 minutes or so. Then toss in the onion, garlic, and herbs for a minute. Preheat the oven to 400 degrees.
Add the wine to the lamb lamb shoulder, onions, and herbs. The braising liquid is intended to be mild. As such, add in the whole bottle of white wine and 2 cups of pinot noir. Follow this with enough water to cover the lamb shoulder just over halfway. Cover the pot and place it in the middle of the preheated oven. Set the timer for 1 hour.
Braise the lamb shoulder in the oven for 3–4 hours. Flip the lamb shoulder completely over every hour. If the braising liquid gets dangerously low, add more water. After 3–4 hours, remove the lamb shoulder to a plate. Cover with foil and let it rest while you work on the sauce. Boil the remaining braising liquid down to 3–4 cups of liquid. Strain the braising liquid into a new sauce pan, and set the heat to medium.
Finish the lamb shoulder and sauce. Slice the lamb 1/2 inch thick, and put in the sauce pan with the reduced braising liquid. Ladle sauce over the meat for a few minutes as it boils. At the same time, reduce 2 cups of pinot noir down to 1 cup. Remove the meat to a plate, and reduce the heat to meadium. To finish the sauce, add the reduced red wine to the braising liquid, and season to taste. Whisk together 1 Tbsp starch to 2 Tbsp cold water into the sauce until thickened.
Tips & Tricks
You can use a lamb shoulder with the bone in it. It will just be more difficult to cut up and serve. But not impossible.
Don't be afraid of seasoning the lamb with just salt and pepper. Most of the flavor will be coming from the braising liquid.
You can use another cut of lamb for this. I wouldn't use leg of lamb. But shanks would be pretty good.