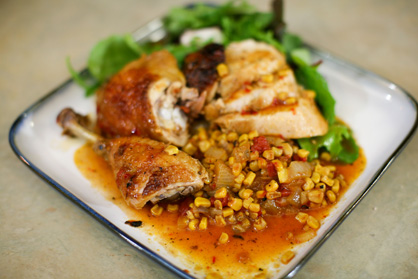 Chef's notes:
A chicken is one of those things that is more often fried or roasted, rather than braised. But a braised chicken is a beautiful thing. The nice thing about braised chicken dishes is that they can easily be turned into single pot meals. Simply add some potato or rice with it, or serve it with a salad like I have here. Plus, the leftovers taste even better than the original after the flavors marinate together. One of my favorite combinations in the whole world is corn, cumin, tomato, and chili pepper. Naturally, I was curious to see if I could braise some chicken in a concoction of them. So, I came up with a recipe and put it to the test. I used easy, basic flavors that mix well . . . and holy crap if it didn't turn out to be awesome.
Ingredients
1 4-5 pound chicken
Sea salt
Black pepper
Ground cumin
1 Tbsp olive oil
3 cups corn
2 Tbsp butter
1 onion, diced
5 cloves garlic
1 cup mushroom, chopped
1 cup crushed tomatoes
2 Tbsp chili paste
2-3 cups white wine
2-3 cups chicken stock
Whole Chicken Cut-up and Braised in Chicken Stock with Corn, Tomato, Mushrooms and Garlic
When I say braise a chicken, I mean a whole chicken. It is, of course, not required that you acquire a whole chicken for this recipe. But it is a lot more fun. If you decide to go the whole chicken route and you need help cutting it up, look to the right under "Techniques" for some more detailed help in this area.
Season the chicken and pan-fry it in a good skillet. Season your chicken pieces with salt, pepper, and cumin. Heat up a good frying pan, skillet, or braising pan on the stove over medium-high heat with a tablespoon of oil, and wait until it starts spitting. Carefully lay the pieces of chicken in it. Fry until you have some nice, dark brown marks on most of the chicken. You should not be concerned with cooking the chicken all the way through right now. You're trying to get it crispy and brown to make it taste better.
Transfer the chicken to a larger vessel. After pan-searing the chicken pieces tranfer them to a pan large enough to hold them as well as the other ingredients. Heat up the oven to 400°F. My braising pan was not big enough for this particular dish, so I used a smaller roasting pan.
Add the braising ingredients to the braising dish. Fry the corn, onion, garlic, and mushrooms in butter. Using the same frying pan you used to brown the chicken will help capture some of the essence of the chicken. Once the onions are a little translucent, add the crushed tomato and chili paste to the pan. Stir it up for a few minutes, and then deglaze the pan with the stock and wine. Pour it over the chicken in the braising pan.
Bake the chicken in the oven at 400°F. Cover the braising dish with some aluminum foil, and put it in the oven for 30 minutes. Pull it out, flip the chicken pieces, and put back in for another 30 minutes. Repeat this process for a total braising time of 2 hours. The chicken should be very tender at this point. If it isn't, keep braising until it is. Add more water, stock, or wine if the pan starts to get low. If you have a sweet tooth, adding a little honey will sweeten things up.
Tips & Tricks
For help learning how to cup up a whole chicken read the article linked to the right under "Tecniques" call cutting up a whole chicken.
You can use any type of stock for this recipe. Chicken stock just makes the most sense
Be careful with the chili paste. It might be spicier then you think.
Don't forget to let the chicken rest for 30-40 minutes covered before you serve it.