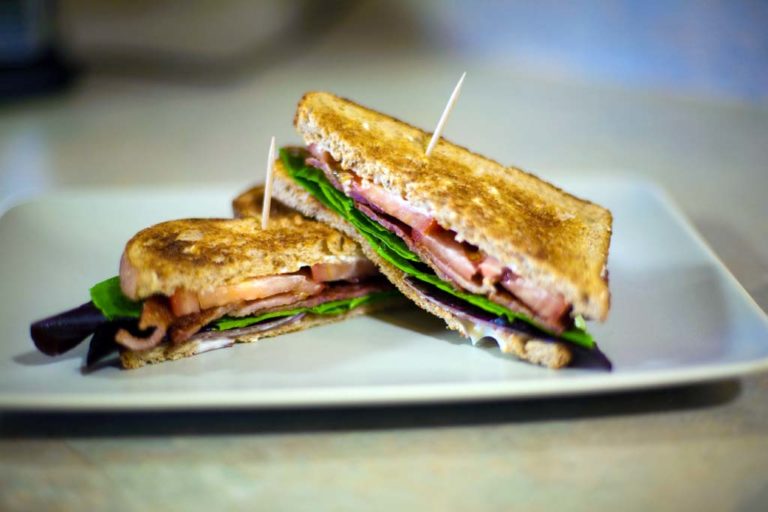 Chef's notes:
The BLT is a type of bacon sandwich that has many variations. Most of the variations come from a personal preference for preparing the ingredients one way versus another. For example, some may prefer the bread untoasted or the bacon a little less crispy. The exact quality and type of ingredient used affects the taste and texture of each BLT. Some may prefer iceberg over romaine lettuce, or Miracle Whip instead of mayo. Other variations within the BLT family are commonly a play on the name, such as a BELT (Bacon, Egg, Lettuce, and Tomato) or, my personal favorite, PBBLT (Peanut Butter, Bacon, Lettuce, and Tomato). I have included a recipe for each of those variations, as well as the classic BLT recipe.
Ingredients
4 slices whole wheat toast
4 slices large ripe tomato
Iceberg lettuce
Mayonnaise
6 slices bacon
Bacon Recipe: Bacon, Lettuce, Tomato, Mayo, and Other Types of Bacon Sandwiches
Buy some bacon, lettuce, and tomato. For a sandwich as simple as a BLT, you will want to buy quality ingredients. I like a simple, unflavored, smoked bacon, vine-ripened red tomatoes, romaine lettuce, heavy mayonnaise, and a multigrain bread. Most people prefer an Iceberg lettuce to the romain. It has a better crunch. Also whole wheat or white is preferred to multi-grain. But you can make it however you want!
Cook the bacon and toast the bread. Cooking the bacon in a frying pan is the simplest method. Fry the bacon to your preferred doneness and move it to the paper towel to drain for a few seconds. Wash and slice the tomatoes, and rinse the lettuce before drying with a paper towel. Lastly, toast the bread, if you want it that way.
Assemble the BLT. Once the toast is done, lay it flat on a cutting board and put mayo on both pieces. Lay the lettuce on one piece of toast. Add a few strips of bacon on top of that. Top off with the tomato slices. Then lay the other piece of toast on top and push it down lightly. Slice and serve right away.
Variations of the BLT. One of the funnest things to do with simple, classic recipes is to add and change them a little. One thing to add to the BLT is a fried egg, or even a slice of cheese. Or try adding another type of meat like ham or turkey. My personal favorite is the PBBLT, which is a peanut butter, bacon, lettuce, and tomato sandwich. Just add peanut butter. Yeah, baby!
Tips & Tricks
Use the best-tasting bacon that you can find for this recipe. It will really be noticeable if you don't.
The classic BLT is fine and all, but have fun with this sandwich and play around with it. I was hesitant when I first tried the PBBLT, but once I took my first bite, I was hooked.
If you add ham to the bacon, egg, lettuce, tomato, cheese combo, you will have a BELTCH.
With the PBBLT, one side is still mayo. I know it sounds weird, but it's a big part of the flavor.