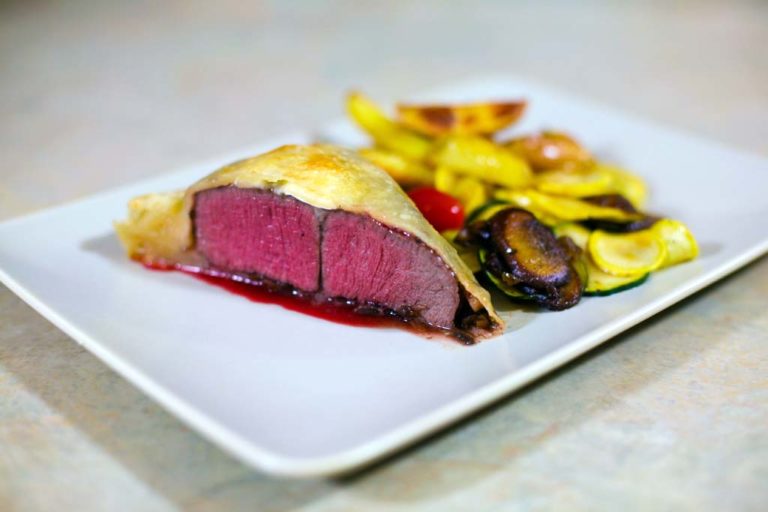 Chef's notes:
I'm calling this recipe bison Wellington knowing full well that it bears little resemblance to an actual "Wellington" recipe, which is generally whole filet mignon salted, peppered, smeared with pate (usually pâté de foie gras) and duxelles (which is mushroom paste), and wrapped in a puff pastry and baked. But substitutions and even omissions have been made in the past, so why not substitute bison tenderloin for the beef tenderloin? Also, making individually sized Wellingtons is quite popular nowadays. But really when you get right down to it, "Wellington" is just an English version of the classic French dish—filet de boeuf en croûte. Or, as in this recipe, filet de bison en croûte aux champignons et au brie.
Ingredients
2 bison tenderloin steaks (4-6 oz each)
Sea salt, to taste
Black pepper, to taste
4 crimini, button, white, or ½ a portobello mushroom, minced
2 Tbsp onion, minced
2 cloves garlic, minced
1 tsp thyme, minced
1 tsp parsley, minced
4 Tbsp butter
2 oz brie
2 sheets puff pastry
1 egg, for eggwash
Bison Wellington Recipe: Bison Filet Mignon Seared and Wrapped in Pastry with Mushroom and Triple-Creamed Brie
Choose your filling ingredients for your bison wellington. The traditional "Wellington" is beef tenderloin, pate, and duxelles. Duxelles is a sort of paste-like mushroom preparation. However, for the bison Wellington, I wanted something different. So I chose to fry some minced mushrooms and onions in butter spiked with a bit of thyme. Then I decided to add some melty, yummy triple-cream brie cheese on top of the whole thing. Oh baby!
Season the bison tenderloin steaks and brown them quickly in a hot pan. Pat dry the bison tenderloin steaks with a paper towel and season them to taste with salt and pepper on all sides. Melt two tablespoons of butter in a nonstick skillet over medium-high heat. Once the butter melts, begin to fry each side of the steaks for 1‒2 minutes, just long enough to brown them. Then set them on a rack and cool them in the refrigerator.
Fry the onion, garlic, and mushrooms in butter. Dice small or mince the mushrooms, onions, and garlic. Then melt two tablespoons of butter over medium-high heat in a nonstick frying pan, possibly the same one you used to brown the bison tenderloins in. Once the butter has melted and the foam has subsided, add the mushrooms, garlic, and onion to the pan and fry until crispy. Add salt and pepper to taste and then add the destemmed and minced thyme.
Assemble the bison wellingtons. Lay out a sheet of puff pastry that is big enough to contain the bison tenderloin and the ingredients. Put the mushroom mixture on the bottom and the cold tenderloin on top of that. Then on the very top, lay a slab of brie roughly the same size as the bison steak. Then wrap the whole thing with the puff pastry, sealing it with brushed-on egg wash. You can play with the arrangement a bit.
Bake the bison wellingtons. If you have a little extra puff pastry, trim it off and make a cut-out to bake on the pastry. Then brush the whole thing with the egg wash and bake it in a preheated 400 degree F oven for 10‒15 minutes. Since we have already cooked the meat, all we need to worry about is getting the crust crispy and brown. And in doing so, the meat will be reheated to a perfect temperature. Basically once it's golden brown, it's done. Let the bison Wellington rest for five minutes before you serve it.
Tips & Tricks
For step 2, unlike when you normally cook steak, this time the meat should be cold. Since we are only interested in browning the outside of the steaks, that will keep the inside from getting too cooked.
You can put many different things inside the pastry with the meat. If you think it will taste good, try it.
Bison tenderloin may be hard to find of you don't have any bison farms in your area. You can always substitute beef tenderloin for this recipe. Or actually any cut of meat would be great in a crust.