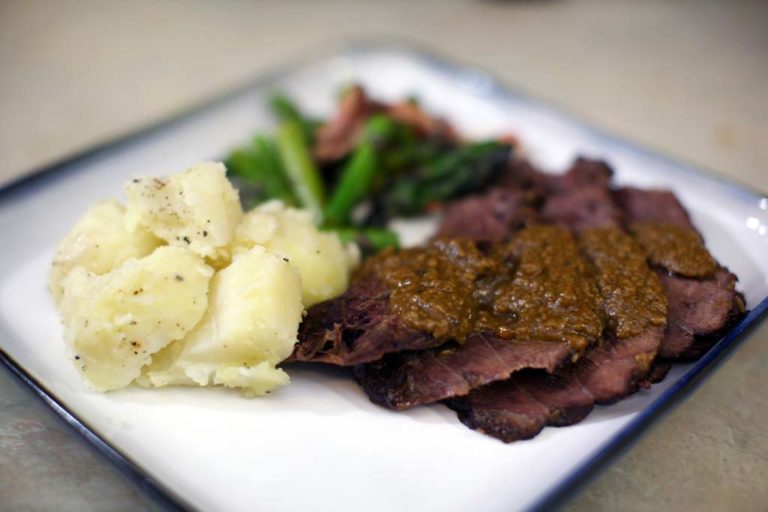 Chef's notes:
My mom used to make pot roast a lot. It was always one of my favorite meals. Pot roast is in general a one pot meal—meat, potatoes, and veggies. She would cook the roast in her cast iron pot with carrots, potatoes, and onion. The meat was always fork-tender. When I got to college, a friend introduced my to crock pot roast with Lipton's onion soup mix. It was kinda ghetto and really damn salty, but I kinda liked it. You know, like junk food. But only kinda. I have been thinking about that meal a lot lately, and I became convinced that I could do a better version of it. I know how to make French onion soup, and I know how to make pot roast. Why not put them together? Pure genius, I know. But then, as I was digging around in the cupboard, I ran across some dried oyster mushrooms. That's when the recipe truly took shape in my mind. It was so obvious: mushroom, onion, and meat. And let me tell you, it was delicious.
Ingredients
4 pounds bison chuck roast
6 cups onion, thinly sliced
10 garlic cloves, minced
1 cup dry oyster mushrooms
2 cups chicken stock
½ cup tomato juice
½ cup bourbon
2 sprigs oregano
2 sprigs parsley
2 bay leaves
Sea salt
Black pepper
3-4 Tbsp vegetable oil
Bison Chuck Pot-Roast: Onions, Mushrooms, Garlic, and Herbs in Chicken Stock and Bourbon
Buy the right bison roast. This cut of bison is a chuck roast. It is a tougher, chewier piece of meat that, once pot-roasted for 3‒4 hours, will become a fork-tender delicious piece of meat. If you can't find bison, you may substitute beef. Either one will work very well. Other cuts of meet that work well for pot roast are arm roasts and rump roasts.
Season the meat and prep the other ingredients. Season the meat with sea salt and fresh cracked black pepper. Rub it in well with your fingertips, working the seasonings into the meat. Measure out the liquid ingredients and chop up the onions. If you can't find dried mushrooms, use fresh ones. I buy dried mushrooms at the Asian market.
Heat up the braising pan on the stove over medium-high heat. Also, now would be a good time to preheat the oven to 400 degrees F. Pour 3‒4 tablespoons of vegetable oil into the braising pan, or until the bottom is covered. Let the oil and pan get up to heat before you add the meat. Brown the meat on all sides until the meat is a deep, dark brown color on all sides. If the pan begins to get too hot, turn it down a little. You should expect some smoke.
Remove the pot roast and add the onions. Cook the onions and garlic until they are reduced to a ¼ of their previous mass. Use a wooden spoon with a flat tip to scrape at the fond (drippings) on the bottom of the pan. When the onions and garlic are reduced, add the mushrooms, stock, tomato juice, bourbon, herbs, and meat. Basically everything else. Keep the heat on and let it get to a boil. Then cover it, and put it in the preheated oven for 1 hour.
After 1 hour, remove the braising pan. Remove the lid and flip the meat with a pair of spring-loaded tongs. Return the braising pan to the oven for another hour. Repeat this flipping and braising process until you have roasted it for 3 hours. Then check it to see if the meat is tender enough to be torn with a fork. If it isn't, braise the meat for another hour. Once the meat is done, rest it partially covered on a cutting board while you puree the stuff left in the pan to make a killer sauce. If the sauce is dry, add a little more stock.
Tips & Tricks
Always use clean, fresh-looking and smelling meat. If you are substituting beef for the bison, use grass-fed beef.
Don't worry about trimming off the fat; fat is flavor.
The best pot roasts are made with pieces of meat that would otherwise be chewy.
If you don't have a braising pan or dutch oven, use a cake pan or roasting pan covered with foil.
Don't skip the first step, the browning step. It has nothing to do with sealing in juices; it's all about creating flavor.
Skip the salty, MSG-laden soup mixes. I'm talking to you, Lipton.
Pot roast is tasty with lamb too, or pork, or even camel.