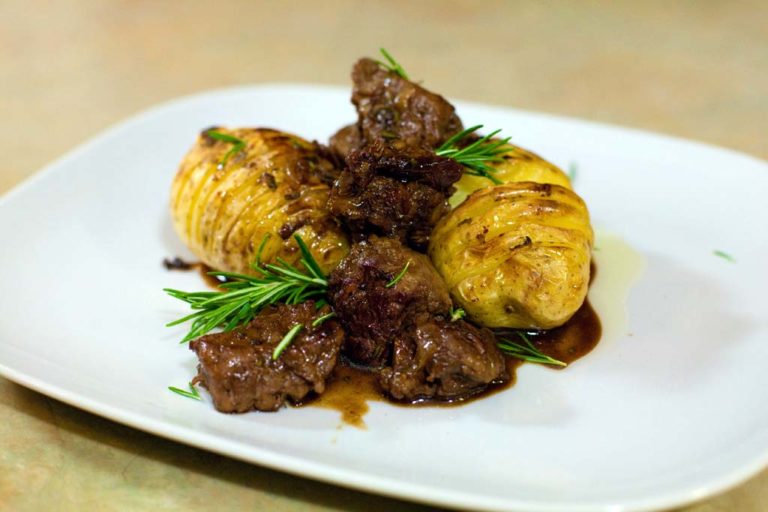 Chef's notes:
Tenderloin chain comes from the side of an untrimmed beef tenderloin. It's removed when the connective tissue and silverskin is removed. Typically it would be trimmed out and either used for stew meat or ground beef, depending on how fatty and sinewy it was. A tenderloin chain could potentially be sold for a lot of money if there was a market for it. But very few people are eating tenderloin chain, at least in America. The first time I was exposed to tenderloin chain was when I was reading Jacques Pepin's book Complete Techniques. He discussed and illustrated how to breakdown an entire untrimmed tenderloin into steaks, roasts, and tips. For the chain he used a hammer to tenderize it and I believe he made a roulade or something with it. As soon as I started working in the Butchershop at Whole Foods, I started buying tenderloin chains and experimenting with them. This recipe is the best one that I've come up with so far.
Ingredients
2 tenderloin chains
1 shallot
1 sprigs rosemary
3 leaves sage
1 T butter
4-5 T demi-glace, you can substitute beef stock
4-5 T hot water mixed with the demi-glace
Sea salt
Black pepper
Tenderloin Chain Trimmed and Pan-Fried with Shallot, Rosemary, Sage and Sauced with Demi-Glace
Get your hands on some tenderloin chain. Give a call to a few butchershops and see if they can save you some tenderloin chains from the next couple tenderloins that they trim. As far as price goes ask them what they would have done with it otherwise and ask for that price. The tenderloin chains in these photos are some of the meatiest I have ever seen. The ones you get may not be as nice as these, just so you know.
Prep the tenderloin chain for cooking by trimming it of all its connective tissue. Cut the tenderloin chain into small chunks after you've removed the sinew and silverskin. You won't be able to get it all, so don't bother trying. If your tenderloin chain is particularly grisly whack it a few times with a hammer to break up those connective tissues. Season it with salt, pepper, and rosemary.
Heat up the skillet over medium-high heat. I recommend browning the meat in butter as it add a great deal of flavor to the meat. Bacon fat is also quite delicious. Brown the pieces of tenderloin chain on all sides. Be patient and flip the pieces one at a time to get all sides brown. Once achieved, remove the pieces from the pan and add the shallot and sage. Saute until lightly brown and softened.
Finish making the tenderloin chain and demi-glace. Add the browned tenderloin chain pieces back to the pan and toss to combine everything well. Add the 1 cup of demi-glace and reduce until the sauce is thick. If you are substituting beef stock for the demi-glace add a pinch of a thickener like: arrowroot, gelatin, starch, or flour. The demi-glace is stocked with gelatin so it doesn't need it. Once the sauce is thick taste and adjust the seasoning. Serve with some nice hasselback potatoes or pasta.
Tips & Tricks
Make sure you trim away as much sinew and silverskin as you can from the tenderloin chain.
If you ask your butcher nicely they may remove as much of the sinew as they can for you. At my shop we would only charge you for the original weight. No up-charge for extra work.
This recipe is very simple and you may be thinking that it would be better if you added some more things to it, garlic, tomato, etc.. And that may be true. But this recipe is really about two things: the quality of the meat and the quality of the demi-glace. The demi-glace is perhaps the most important part of this recipe, so you really should make your own.
Hasselback Potatoes
4 large potatoes
Vegetable oil
Sea salt
Black pepper
1 T rosemary leaves
Using a sharp knife, slice the potatoes about 90 percent of the way through without going all the way. A couple of chopsticks laid on the cutting board on both sides of the potato will help make this easier. Season the potato with salt and pepper and rub with a little oil. Roast the potatoes for 45 minutes to an hour until done.