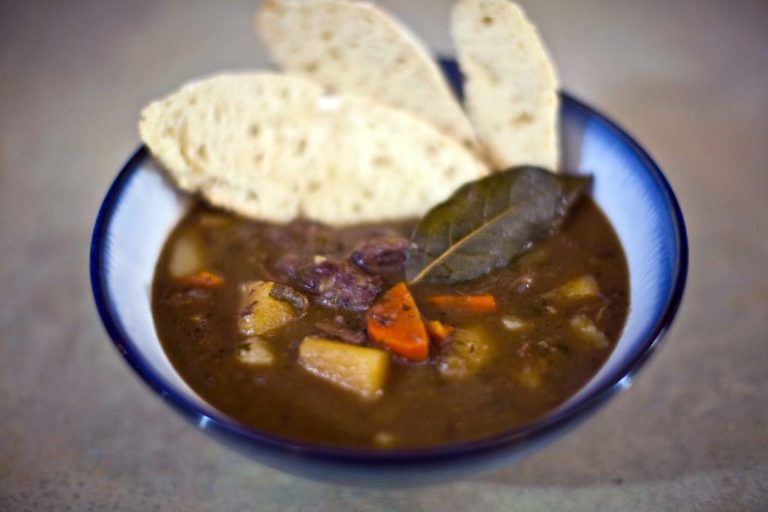 Chef's notes:
Beef stew recipes, or at least some form of stew, is popular in every culture. When I think of stew, I always think of a steaming pot filled with beef and a lot of root vegetables. And then I think of Ireland. Of course, the Irish usually use mutton or lamb more often than beef, but in America, beef stew seems to be the preference. To this end, we will use beef to make this stew. I do think the stew we make in America vaguely resembles stews from other countries, but like so many other things, we have made it our own. Which, of course, means that we have made it better . . . right? I'll leave that to you. This is my beef stew recipe, but it can easily be adapted to suit your tastes.
Ingredients
1.5 pounds stewing beef (chuck)
1 tsp sea salt
1 tsp black pepper
3 Tbsp all-purpose flour
2 Tbsp butter
1 cup minced onion
5 cloves minced garlic
2 cups diced red potato
3/4 cup diced rutabaga
3 diced carrots
1/4 cup minced green onion
8 cups beef stock
1 cup red wine, or 2 cups dark beer
2 cups water
2 bay leaves
4 Tbsp minced oregano
6 Tbsp minced parsley
Chopped Chuck Arm Roast Beef Stewed with Root Vegetables and Herbs in Beef Stock
Pick up some beef for stew. This doesn't necessarily mean that you have to pick up meat labeled "stew meat." That term is arbitrary, and can mean anything from "trimmings" to "scraps." So, just buy some beef chuck or round, and cube it up nicely, like the picture of meat to the left. If you're not careful, sometimes you get tiny little scraps if you buy "stew meat." Up to the right is the beef stew recipe.
Coat the beef in flour and fry in butter. First dredge the meat in flour, and then fry the pieces until brown on all sides. Do it in small batches to keep the meat from getting soggy. Try to get each side cooked up crispy and brown before adding the onions and garlic, which you will fry until transparent. To save on the mess, this can be done in your soup pot, but make sure nothing burns or sticks to the bottom.
Add the liquids to the beef and onions. Pour the beef stock, water, and wine (or dark beer, if you prefer) into the pot. Turn the heat to medium, and keep stirring as the liquid gets up to heat. Again, make sure to scrape at the bottom of the pot to remove any stuck bits. Add the chopped oregano and 2–3 whole bay leaves. Cover and let it simmer for an hour.
Add the vegetables to the beef stew. Add the chopped root vegetables, green onions, and parsley to the pot, and cook covered for another 2–3 hours. Make sure to check the liquid level on occasion, and add some water if it looks to be getting low. Try not to stir it too often, otherwise the potatoes will fall apart. While you're waiting, you should have enough time to make some soda bread.
If necessary, cook the beef stew with the lid off to get rid of some liquid. If you find that after cooking for 3 hours you still have too much liquid, remove the lid and simmer for another 30 minutes. Afterwards, adjust the seasoning to your taste preference. If you want a beefier flavor, add 1–2 tablespoons of soy or Worcestershire sauce.
Tips & Tricks
Buy whole chuck roast or eye of round for stew meat. Always skip the pre-packaged stew meat since it can be just about anything you can imagine.
Fry the flour coated cubes of beef carefully and individually so they don't get soggy.
In my opinion, potato skins are meant to be crispy, so I like to peel my potatoes before dicing.
Oregano, to me, seems to go well with beef, but some think thyme is a better choice. It's your stew, so it's your call.
Red wine makes for a different stew than dark beer. It's up to your preference. I went with red wine because that's what I had available, but 2 cups of dark beer would have been my first choice.
You can always add a little tab of butter, or a couple of tablespoons of soy or Worcestershire sauce, at the end to make the stew taste better.